A former Southwestern Ontario MP in a Tory stronghold is backing a rival Liberal in a coming byelection to replace him.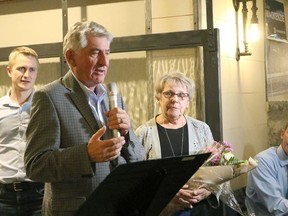 A former Southwestern Ontario MP in a Tory stronghold is cutting ties with his party by backing a rival Liberal in a coming byelection to replace him, one political watcher says.
Dave MacKenzie, who held the Oxford seat for the Conservatives for 19 years until he retired in January, says he is supporting former educator and Woodstock realtor David Hilderley in his bid for the Liberal nomination, citing concerns over the Tories' controversial nomination process.
A former MP throwing his support behind a different party's candidate is not unknown, but is "very unusual," said Waterloo-based political analyst Peter Woolstencroft.
"He's burning a bridge. The party will not thank him," said Woolstencroft, a retired University of Waterloo political science professor.
"There's a great stress, particularly in Canadian parties … almost an imperative, for being a team player." And from the party's perspective, he added, "This is not being a team player."
The contested race for the Conservative nomination thrust Oxford into the spotlight after the ousting of one candidate and accusations the party stacked the deck to help lawyer Arpan Khanna win.
Khanna, who defeated two other candidates, including the former MP's daughter, served as Ontario co-chair for Pierre Poilievre's successful leadership campaign and ran unsuccessfully for the Tories in Brampton in 2019. Immediately after he won, two Oxford Conservative riding association leaders in the riding resigned.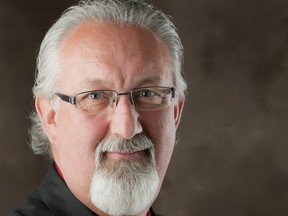 MacKenzie expressed concerns about how the nomination process was handled, saying the Conservative headquarters and former party federal leader Andrew Scheer favored the winning candidate from the onset.
"I always believed we were a grassroots party, but when Andrew Scheer brought in somebody from outside the riding … it became somewhat of a Brampton nomination. So, it's not hard for me to support a grassroots guy here, who represents the Liberals.
He added, "It's not so much about party politics. It's about supporting somebody local."
Hilderley, a realtor for 17 years and former educator for 34 years, is up against former Liberal federal candidate and Woodstock lawyer Elizabeth Quinto for the party's nomination. The Liberals have yet to call a nomination meeting.
Despite his frustration, MacKenzie remains a Conservative party member, whether or not the party still considers him one.
"I'm not taking out a membership in the Liberal party, and I'm not leaving the Conservative party," he said. "At this point, I feel like the Conservative party left me, for this election, but we'll see what happens going forward."
A spokesperson for the Conservatives, Sarah Fischer, said MacKenzie's endorsement is a sign he has "chosen to support" Prime Minister Justin Trudeau and his stance on specific issues affecting Oxford residents.
"Justin Trudeau has done nothing but attack Oxford since he was elected and Mr. MacKenzie's decision to support him speaks volumes," Fischer said by email Tuesday.
Hilderley ran unsuccessfully for the Liberals in the 2011 provincial election in Oxford and lost in last year's municipal election to Woodstock Mayor Jerry Acchione by 171 votes. He said he was "pleasantly surprised" to learn recently he had MacKenzie's support.
"I've known Dave for a long time. He's represented us very well in Ottawa. I know he wants what is best for Oxford County, and what's best for Oxford County is exactly what he says: somebody who knows the territory."
Hilderley is confident voters in Oxford can get behind a Liberal candidate again. John Finlay held the federal seat for the party from 1993 to 2004.
"We will have to work very, very hard."
A byelection hasn't been scheduled yet in Oxford but must be called before July 29.
Already candidates have been campaigning throughout the riding, with Khanna expected to join Conservative Leader Pierre Poilievre at a meet-and-greet event in Woodstock on Saturday.
Byelections are notoriously hard to predict as the turnout is typically lower than in a regular election, Woolstencroft said.
"Byelections and fickleness go hand in hand and occasionally things happen. The right candidate with the right message may stir up people. If they can be persuaded that Ottawa is running roughshod over the folks in Oxford, the Conservatives will have a problem," he said.
"However, it is one of the safest seats for the Conservatives in Ontario."
The Local Journalism Initiative is funded by the Government of Canada