Sarnia Mayor Mike Bradley said a combination of "secrecy and spending" by the police board prompted him to step away effective May 15.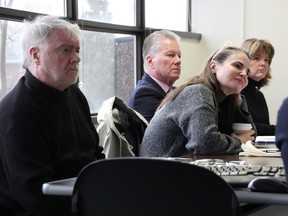 Sarnia Mayor Mike Bradley said a combination of "secrecy and spending" by the police board prompted him to step away effective May 15.
He's also faced "constant" code of conduct complaint threats for being critical of board decisions, he said.
"I cannot work in this type of environment where there are constant threats on anything you say and do, and the best way to deal with that is just withdrawn from the board for a period of time, until next year, and I'll re -evaluate the situation," said Sarnia's mayor for the past 35 years.
He's been on the police board all that time, mostly as chair, he said.
Under the Police Services Act, the mayor is a de facto member of the board — along with a second representative elected by city council — but can step back and allow a councilor to take his place, he said.
Bradley announced his decision in a written statement Wednesday, noting he's stepping away until the end of 2024.
Council would have elected a replacement for Bradley Monday, but a miscommunication kept that item off council's agenda, said city clerk Amy Burkhart.
Instead, Bradley's replacement will be decided at council's June 12 meeting, she said.
A police board meeting scheduled for May 25 will go ahead with four of five board members, board chair Paul Wiersma said.
He commended Bradley for his dedication and service on the board for what, he said, may be an unprecedented tenure on any municipal police board in Ontario.
"I want to take the public opportunity to really acknowledge his many years of service," Wiersma said, adding he was surprised by and respects Bradley's decision.
"He's a very knowledgeable and skilled individual who's been able to contribute to the board," Wiersma said.
Bradley earlier this year stepped back from his role as board chair — he'd at times, previously, stepped back from chairing, while always remaining on the board, he said.
When he stepped back in February, Bradley said it was so he could feel more comfortable disagreeing with spending decisions by the board.
He and Coun. Dave Boushy, also a former board member, disagreed with the 11.5 per cent police budget increase and voted against it on the board and at council.
The increase was ultimately approved amid strong public support for more community mental health initiatives, for a new auxiliary, and for police to work with other health and social service agencies to help better address the roots of crime.
Bradley, Wednesday, also repeated his criticism of what other board members have called a budget education workshop meeting held behind closed doors last fall.
"It was three to four hours and my understanding was it was wide ranging on a lot of topics," Bradley said.
"There have been discussions on major infrastructure investments for policing that were being done in camera."
Those sorts of discussions have been held publicly in the past, he said.
He couldn't provide specific examples, without risking a code of conduct complaint, of decisions or discussions in private that should have happened publicly, he said.
Wiersma said the board is not making decisions behind closed doors.
Reasons outlined in the Police Services Act for going in closed session include human resource issues and security issues, he said.
"There are legitimate reasons for a police services board to meet in camera," he said.
Meeting for workshops in camera is also OK under the act, he said.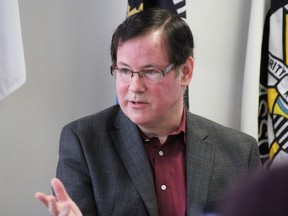 Asked why not have information sessions in public about how the budget works, or about board members' obligations — another private meeting with the Ministry of the Solicitor General was held on that, he said — Wiersma reiterated that it's allowed in the legislation and the board has been assured by the ministry they're on solid ground.
"I know that sometimes people want to feel safe to ask a stupid question perhaps, and they may not want to ask that question if there's a larger group of people observing," Wiersma said.
Steps are also underway to make the board more transparent, he said, including having longer public meetings and more opportunities for board discussion.
"I'm not prepared to rush our meetings to get to the end like we've done in the past," he said. "I'm prepared to meet as long as it takes until everyone feels that we've done our due diligence as police board members."
Budget updates are quarterly, he said.
"And I encourage members of the board to ask the deep questions and to really make sure that they're satisfied that the spending is in alignment with the business plan and it's being done in a way that is financially responsible."
As far as being under "constant threat," Bradley said he was called out by board personnel for comments he made at a recent city council meeting, when he warned councilors to be wary police spending may be on the rise.
"Those spending policies are going to wipe out many of the things we've achieved here in this chamber," Bradley said May 8referring to police spending's potential impact on city debt reduction efforts.
Council was discussing long-term capital spending and there was little information about police spending plans in the package.
Afterwards, "I got an email from the chair saying, 'We're going to discuss that and a possible code of conduct complaint at the next board meeting,'" Bradley said.
Wiersma said part of the board's code of conduct requires members to maintain public confidence in the police service and integrity of the board.
"The fact that you wear other hats, sometimes that's unavoidable," he said.
"But you need to reconcile the various roles that you have and you need to be sure that when you're a member of the police services board that you're able to fulfill those responsibilities."
Bradley said being a member of the board can't supersede his role as mayor, including providing advice to council.
"I will be writing a letter to the Solicitor-General on a number of things, including clarifying that mayor role" and the code of conduct process for the board, he said.
Bradley is adamant he wants the city to continue paying down its debt instead of taking on more debt to pay for capital projects council has approved, but for which there's been no spending commitment made.
Sarnia's treasurer recently said the city is on a trajectory to be debt free by 2026, after having about $96 million in debt about 20 years ago.
Police spending increases could derail that, Bradley said.
"We had the highest police budget increase in Ontario last year and it looks to me the pattern is there to continue that in the years ahead," Bradley said.
"Which means we have to cut other city services if we don't want a large tax increase."
Bradley, in his four-page letter announcing his leave of absence from the board, also said administration costs at the police service have significantly risen.
He said he wasn't able to provide specifics.
"I'm trying to protect myself from a complaint," he said.
"I think time will show when people do comparisons going back three, five years, they'll see what I'm talking about."
There has been significant restructuring with the arrival of a new boss and deputy chief in the last year, Wiersma said.
That includes creating new management positions, and maybe eliminating others that were vacant, he said.
"But I wouldn't say the overall administration costs are necessarily any greater," he said.
Wiersma said he welcomes dissent on the board.
"I think it's really important to have a diversity of views, to have healthy and respectful debate," he said.
Bradley said he's worried a police board less open to the public will undermine public trust, recalling a "painful" look into potentially replacing the city service with OPP around 2010.
Calls for that happening again are "another concern at this point," he said.