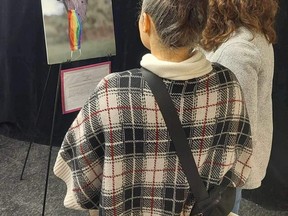 Photographs taken by members of Brantford's 2SLGBTQIA+ community were on display at The Coach House on Friday.
Article content
Created through a research project by Christine Wildman of Brantford and The Bridge Brant, the exhibit aimed to explore the lives of 2SLGBTQ+ people in Brantford and Brant County. It also captured the lives of 2SLGBTQ+ residents during the COVID-19 pandemic.
Article content
The Bridge Brant provides a safe, supportive and empowering home for local2SLGBTQ+ residents.
"The photos represent five significant themes mirroring local experiences of 2SLGBTQIA+ individuals," Wildman said. "The first was the challenge of cis-heteronormativity. It is challenging to live in a society not made by or for 2SLGBTQIA+ people."
The goal was to represent living in a society where binary genders and heterosexuality are normalized and those who deviate from those norms are excluded, Wildman said.
Article content
Challenging the status quo, that is finding creative ways to connect, live and love despite being unrepresented was another theme of the exhibit.
Other themes included: educating the broader community about 2SLGBTQIA+ populations and nurturing our identities and each other; safe and dedicated spaces which are crucial to a sense of belonging and the disproportionate impact the COVID-10 pandemic had on marginalized people.
The event was called 2SLGBTQIA+ Community Photovoice Art Show/Community Conversation: 2SLGBTQIA+ Safety and Well-Being in Brantford and the County of Brant. The project began just as the COVID-19 pandemic started and Friday's exhibit included 24 of the more than 60 photographs taken as part of the initiative.
Article content
"Amid the challenges, this research demonstrates the resilient ways participant researchers found to connect, be visible, build solidarity, and community, even in the face of a pandemic," Wildman said. "However, what we didn't foresee, at the time that is research was done, that there would be a surge in anti-2SLGBTQ+ hate, locally and beyond.
"Despite progress, we are witnessing a disturbing resurgence in public expressions of transphobia and homophobia."
Wildman said the rise, under the guise of protecting children, is especially troubling, perpetuating, harmful beliefs about non-conforming genders and sexualities.
"This mindset harms 2SLGBTQIA+ people and we are particularly worried about our youth, as they are facing attacks at schools, within peer groups, communities, and even within their own families," Wildman said.
Article content
The event brought together 40 people including city employees, local business owners, members of the 2SLGBTQIA+ community and allies. It was an opportunity to engage in a community conversation about safety and well-being, Wildman said.
"Together we explored ideas about how Brantford and the County of Brant could be more inclusive to 2SLGBTQIA+ populations, how to keep them safe, and barriers to safety and well-being amid a rise in anti-2SLGBTQIA+ hate," Wildman said. "A common theme throughout the conversation was the need for 2SLGBTQIA+ specific space for community members to gather safely. "
The exhibit was on display for one night only but plans are underway to have the photographs put up at various locations around the city in the future.
To learn more about the exhibit and view the photographs online visit www.thebridgebrant.com/seniors.
twitter.com/EXPVBall