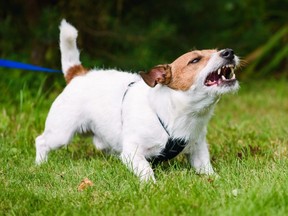 A horrific attack by a dog on a 75-year-old Norfolk County woman last week is just one of hundreds of cases investigated each year.
Article content
Chris Bonnett was taking garbage out to a bin in a wooden corral condominium property in Nixon, northwest of Simcoe, on November 1, when she came face to face with a snarling dog.
Article content
The woman received extensive injuries to her face, scalp, arms, and legs that required a week-long stay for treatment at St. Joseph's Hospital in Hamilton.
Norfolk County bylaw officers are investigating a variety of animal complaints under the Care and Control of Animals bylaw.
In 2020, 154 animal-related complaints were investigated, compared to 203 in 2021, and 186 in 2022.
So far this year there have been about 150 animal complaints.
Meantime, the environmental health team at Haldimand Norfolk Health and Social Services investigated a total of 408 bite/scratch reports, 264 of which involved dogs in 2022.
Article content
"The vast majority of animal complaints by law investigates each year relate to noise, particularly barking dogs," said Jarah Stefek, supervisor of corporate communications at Norfolk County. "I would estimate only about a dozen dog bite complaints are received each year by law."
Stefek said both OPP – that investigate complaints after hours and on weekends – and by law are mandated to advise the Haldimand Norfolk Health Unit when a bite complaint is received.
Under the county's bylaw, when a bite complaint is received, and individual circumstances dictate, a bylaw officer has the authority to deem the dog as "dangerous" and require the owner to comply with control measures that could include muzzling, tethering, securing in a specific area, the posting of warning signs, sterilization, and notifications.
Article content
Additionally, in more serious dog attacks, the provincial Dog Owners Liability Act allows for investigation by police, and deals with the control of more aggressive breeds, search and seizure powers, and permitting courts to decide on control measures up to and including euthanizing the animal for public safety.
Following the attack on Bonnett, the dog was surrendered by its owners to Hillside Kennels Animal Control near Innerkip that provides animal control services for Norfolk County.
Hillside owner/operator Tracey Gibson said the dog will be euthanized at the end of a 10-day quarantine period, not because of its breed but due to the severity of the attack.
Norfolk OPP identified the dog as an American bulldog, but Gibson described it as a "pit-mix."
"No one can say what breed it is without doing genetics on it, but it definitely looks like it has some pit in it."