Apple has just deployed iOS 16.4, the new version of its operating system for iPhone, also available on iPad. An update that brings some nice new features, but nothing revolutionary.
It's an immutable habit: Apple likes to make updates on Monday evenings for France. And the Apple firm is obviously no exception to this ancestral rule in 2023. Thus, in parallel with the release of macOS Ventura 13.3, it released iOS 16.4 on March 27, the new version of its mobile system for iPhone – also available in iPadOS 16.4 for iPad tablets (see our full iOS 16 article for all the new features of this system and its compatibility with different iPhone and iPad models). If it fixes a few bugs and malfunctions, this spring version includes more new features and improvements than the iOS 16.3 update released at the end of January. And as it has been tested with several betas, you can download and install it now (read our practical sheet to find out how).
iOS 16.4: welcome but minor new features
iOS 16.4 introduces a function previously reserved for FaceTime calls: voice isolation. Like the Clear Calling function of Google Pixels, it reduces surrounding noise to better bring out the voice during phone calls, so as to make communications more intelligible. However, it is disabled by default: to take advantage of it during a call, you have to go to the Control Center, then to Microphone Mode.
In addition, iOS 16.4 allows web applications – which can take place on the home screen – to send notifications – provided you authorize them, of course. – via the Web Push system already supported by Chrome, Firefox and many sites and services.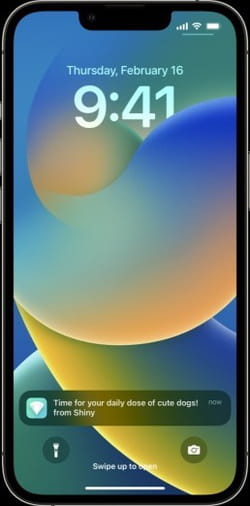 In a more trivial register – although, Apple putting it very much forward… – iOS 16.4 introduces 21 new emojis (31 with skin variations) from Unicode 15. On the menu, among other things and in bulk, new hearts ( turquoise, gray and pink), a vibrating head, a Wi-Fi logo, a donkey, maracas, clapping hands… Enough to delight enthusiasts while waiting for the next delivery (Unicode 16.0) which will be integrated into a future iOS update.
iOS 16/4 still brings many more anecdotal new features – some of which only interest a handful of users – such as a new accessibility option to dim flashing or strobe lights in videos, a Channels tab in the Apple Podcast app to discover other shows produced by a followed channel, detection of duplicates in the shared photo libraries of the Photos app, or even a revised interface in the Apple Musi app, The most fun is undoubtedly the possibility of turn off your iPhone with Siri! Finally, for the curious and impatient, iOS 16.4 makes it easier to install beta versions of its future system updates, so as to test new functions in preview.
iOS 16.3: an update focused on security
Apple had released iOS 16.3 on January 23, 2023. No big revolution in this version, Apple having focused its evolution on security. Indeed, the firm makes its devices compatible with physical security keys such as Yubikey for example. These keys, which can be connected to a smartphone or tablet on the Lightning or USB port, act as a double authentication factor to access confidential information. With the iOS 16.3 update, these devices allow you to lock access to the Apple account. A measure that comes in addition to end-to-end data encryption on iCloud.
Another novelty – or rather a correction – of the Emergency Call function of the iPhone 14, which has triggered numerous alerts lately (see our article), provoking the annoyance of unnecessarily disturbed rescuers and the laughing stock on social networks. Now to avoid any false manipulation, you have to hold down the power button and the volume button + or – then release. Finally, iOS 16.3 also introduced the management of HomePod 2, the new connected speaker that arrived in February. It brought the addition of a new wallpaper called Unit paying homage to the culture of the Blacks, as well as the correction of some bugs.