WhatsApp's system of small ticks is very practical for knowing that a message has been received and viewed by a correspondent. But it can also be annoying in some cases. Luckily, it's easy to turn off.
Like other instant messaging apps, WhatsApp lets you know if a recipient has received and opened a message sent to them. In practice, everything is based on a system of ticks that appear in the lower right corner of the bubbles, next to the time.
When a message is successfully sent, a small gray tick is displayed. When the message is well received, but not yet viewed, two small gray checkmarks appear. Finally, when a message has been read in a conversation, the two checkmarks turn blue.
This visual code is very practical, but it can turn out to be quite indiscreet, even embarrassing in certain cases, especially when a long delay separates the passage of the check marks from gray to blue. If you don't want your contacts to know when you've read their messages, you can turn off read confirmation in WhatsApp settings. Note, however, that the deactivation will be fair: you will also not see when your contacts actually open the messages you have sent them…
The manipulation, very simple, works on all versions of WhatsApp, on Android as on iOS.
Open the WhatsApp application on your mobile.
At the top right of the interface, tap the three little dots.
Then press Settings in the drop-down menu.
Press on Account. Section Account opens.
Press on Privacy, the first item in the list, next to the padlock icon. Section Privacy opens. It allows you to adjust various parameters related to the visibility of the user's profile and activities.
To turn off read receipts, tap the switch beside Read receipts. The switch turns grey.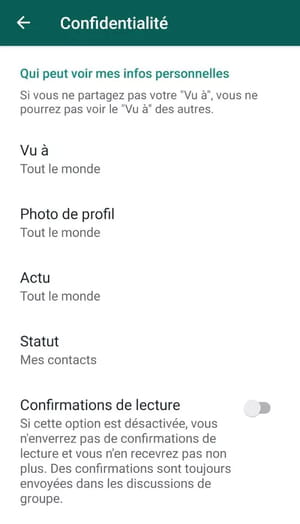 To reactivate read receipts on WhatsApp, perform the same manipulations and press the grayed out switch next to the mention Read receipts. It turns green when this option is active.