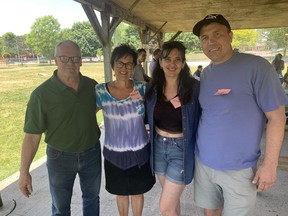 Newcomers to Norfolk County are learning Canadian lingo one "double-double" at a time.
That's how Michael O'Connell describes his approach to helping people from Ukraine, Russia, Syria and elsewhere adapt to their new home
"I'm not a teacher of English," O'Connell said. "I'm not going to lecture them about proper grammar.
"My goal is to teach them the common phrases, the vernacular, used by Canadians to help them fit in and communicate with others."
McConnell helps them understand common phrases like 'how's it going?' and "what's up?."
Ordering a "double-double" is about as common as it gets for Canadians looking to get their daily fix of Tim Hortons coffee, McConnell said.
McConnell and Kathleen Seminara are volunteers with the YMCA Hamilton/Burlington/Brantford who help new arrivals develop their language skills. They lead English Conversation Circles at the Simcoe Branch of the Norfolk County Public Library from 6 pm to 7 pm on Monday nights. The communications program is funded by Immigration, Refugees and Citizenship Canada.
The conversation circles are an opportunity for people to make friends, learn about community services and share their experience and culture with others. The sessions are for permanent residents and convention refugees.
Seminara said there are many benefits to volunteering for the program.
"I've always believed that when you volunteer and you're an instructor you're going to learn as much or more from the people you are helping," Seminara said. "In these group discussions I get an opportunity to learn about other countries and hear different perspectives."
Both McConnell and Seminara are Norfolk County residents. They were among the more than 30 people to attend a newcomer family picnic at the Simcoe Kinsmen Picnic Shelter on Talbot Street on Sunday.
Two of their students – Tetiana Kysylytsia and her husband Serhii Yustyn – also attended the picnic. They were forced to leave Ukraine when Russia invaded their homeland and have been in Canada for about 10 months.
"It was very difficult, leaving everything behind," Kysylytsia said. "We went to Italy first and then came to Canada.
"There was no one here for us."
They managed, with the help of the internet, to find someone in Paris, ON who provided them with a place to stay to give them a start. They now live at Schafer House, the former Delhi Research Station that was transformed into a multi-unit housing development by Mike and Sandy Kloepfer, owners of Titan Trailers, Kysylytsia explained.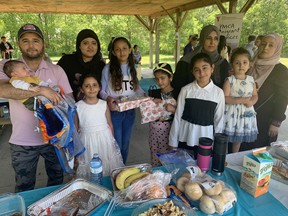 A love of cars is something that is universal. Put someone from another country in a garage or with others who share his or her passion and they will learn to communicate, McConnell said.
Azra Chaudhry, a community connections coordinator for the YMCA Hamilton/Burlington/Brantford, said the conversation circles program is especially important in Norfolk County. There are people from other countries moving into the community but to her knowledge there aren't any other language programs to help them.
The potluck picnic held on Sunday was organized by the YMCA. It was a way of bringing new arrivals together to share experiences, enjoy some food and games and practice their English.
"This is away from helping our newcomers feel at home in their new home," Chaudhry said.
For more information about the communications program call 519-426-3506 or 519-752-4568.
twitter.com/EXPVBall