An annual spring cleanup in Petrolia is step one in getting the town ready for summer tourists, says its parks, recreation and facilities director.
"Step two is in a few weeks we get the flowers out, the events start happening," said Dave Menzies.
He was helping organize residents and members with various service clubs Saturday to clean up debris and trash from town parks and public spaces.
"It's a kickoff to getting the town nice and tidy for tourism," he said.
About 20 to 30 people help per year in Petrolia's cleanup that moved to the first weekend in May after starting in April about 10 years ago, said town marketing and communications director Laurissa Ellsworth.
"We always wanted to do Earth Day, but the weather is just so iffy," she said about the rationale behind the shift.
The day now roughly aligns with the provincial Day of Action on Litter, held every second Tuesday in May, she said.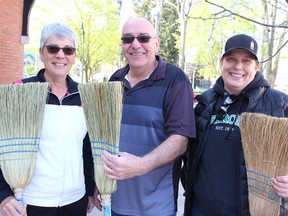 "It wasn't necessarily planned like that 10 years ago, but it works perfectly now," she said.
Last year 20 bags were collected, she said.
Local Scouts are involved and service clubs adopt parks to clean, Menzies said.
The town and the Petrolia Business Association have also provided brooms to all main street businesses, said association chair and downtown business liaison for the town Denise Thibeault-Sanders.
"To encourage them to get out in the morning, meet your neighbor and clean the front of your sidewalk," she said.
That initiative continues all summer, Menzies said.
It's important to help beautify the town, said Steve Anema, with the Petrolia Rotary Club.
Members with the club have been helping for as long as the cleanup has been held, fellow Rotary member Darlene Keates said.