Brantford Expositor journalist Brian Thompson has won another Ontario Newspaper Award bringing the total to six wins during the course of his career.
And if that wasn't enough, he also added another runner-up/finalist prize to his resume, bringing that number to 12.
Thompson won the 2022 award for spot news photography (under 25,000 circulation) for a photo of a fire at the North West Rubber plant in Brantford.
"For spot news, a photographer needs to be in the right place at the right time. But that's not a matter of luck. That's being prepared and, in this case, advocating for a journalist's right to access with emergency responders," said the award judge. "The composition clearly shows the scope of the emergency…"
Thompson won this same category for 2021.
Thompson was also named runner-up in the 2022 feature photography category for a photo of a young youngster attending the Remembrance Day ceremony in Brantford.
"Finding a fresh, impactful image for Remembrance Day coverage is a tall challenge for any photographer," wrote the judge. "The impact of Brian Thompson's photo from the War Memorial in downtown Brantford comes from the simplicity of the image: a tall gray stone, a small hand, fingers perfectly splayed, a hooded figure – anonymous, and therefore representative of all of us who want to show respect."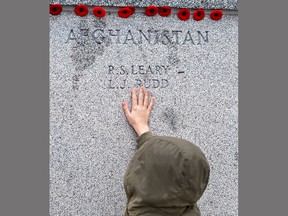 The Expositor's Susan Gamble was recognized as a runner-up in the 2022 beat reporting category (under 25,000 circulation) for her expertise in court coverage. She won the same award last year for her work in 2021.
"Gamble's in-depth court coverage on a wide range of cases — the police cadet's several offences; additional murder charges that had yet to be made public; and even the bigger payday for a pair of gamblers — using both modern and old-school reporting tools showed her expertise and talent for navigating complicated legal matters and translating them into easily digestible pieces for the public," wrote the judges.
The awards recognize excellence in journalism from member newspapers that publish online and in print in communities across Ontario, outside of the City of Toronto.