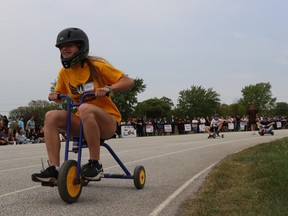 Vikes on Trikes, an annual fundraiser at Sarnia's Northern Collegiate high school that was paused during the pandemic, returned Friday with colourfully-dressed students, teachers and volunteers peddling tricycles around the school track while raising more than $10,000 for a 10-year-old girl battling leukemia.
Eshe Lai, the younger sibling of a recent Northern graduate and a current student, attended with her family and thanked the school and organizers before the races began.
"I can't wait to be a Viking soon," the Grade 5 pupil at Errol Village elementary school told the crowd, referring to the school's mascot.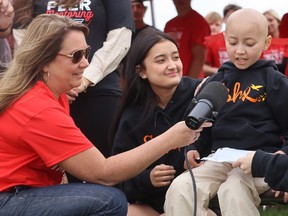 "It's hard to put into words just how grateful and supported we feel by our community," said her mother, Carshenan Lai.
While there have been setbacks during Eshe's treatment, "she's finally reached maintenance chemo and she's doing better so we're hopeful the journey will be smooth from here on out," Lai said.
"We kind of just thought it was going to be a small race and it turned into a huge thing," Lai said.
In past years, about 10 teams entered Vikes on Trikes but there were 48 registered as the heats began in the afternoon, said principal Melissa Mallette.
One class held a fundraising barbecue and other classes raised funds to come up with the minimum $50 donation each team needed to enter.
"All that money is going directly to the family," Mallette said.
"I think it shows compassion and empathy, and the need to support each other in tough times."
The day was organized by teacher Erika Maczko's Grade 12 healthy, active living and recreation leadership class.
"They put a lot of work into promoting it," Maczko said. "They made posters, they made a really good video. They also went out to the community and asked for donations for raffle prizes."
Vikes on Trikes has been a traditional fundraiser at the school but Friday's was the first since the events paused during pandemic restrictions.
"It's nice to bring it back," Maczko said.
Each team of four was encouraged to dress in costumes and bring a tricycle they peddled in a relay once around the school track. A team of teachers also was enlisted to complete against local firefighters and fire school students. There were several heats and a trophy for the winning team.
"We knew we wanted to raise money for Eshe and her family," said Kate Walls, a student in the leadership class.
"Her story is really personal to us since it is a Northern family and we like to support each other. We just thought this would be a perfect way to do this."
More photos