Biosphere mural project underway at Long Point Eco-Adventures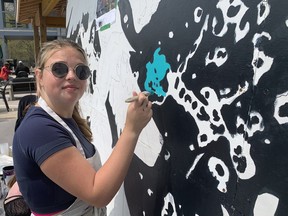 Valley Heights Secondary School students picked up paint brushes to learn about art, community and truth and reconciliation.
Kaitlyn Hecker and Kara Brown were among a group of eight students to spend a day earlier this month at Long Point Eco-Adventures painting a colorful eight-foot by 24-foot mural. When finished, the mural will adorn a wall of an Eco-Adventures building near St. Williams.
"I can't speak too much about truth and reconciliation because I'm not part of the Indigenous community," Brown, a Grade 11 student, said. "But I think this is really cool that we can all get together and learn more about the Indigenous community and why truth and reconciliation needs to happen."
Hecker said the mural features Indigenous symbols and speaks to the need for truth and reconciliation.
Brown and Hecker were among the 120 students to participate in a Moccasin Identifier Project workshop at Long Point Eco-Adventures in March.
Created by Carolyn King, the Moccasin Identifier Project aims to educate people about Indigenous culture and treaty rights. King is a past chief of the Mississaugas of the Credit First Nation, historian and Order of Canada recipient.
In addition to hearing from representatives of the Moccasin Project, students also created their own moccasins using a stencil kit provided by the initiative They also met Benjamin Swatez and Azerine De Luca, two international artists who spoke about community building through art.
The next step of the initiative was to take the art work created by the students with the help of Swatez and De Luca and Bezaliel Hill, an Indigenous artist intern, to create a mural.
"It was really interesting because we got to learn about different styles of art and how to make art in different ways," Hecker said. "I liked that there were so many different perspectives about how can approach art, that there's not just one mainstream way of doing it.
"I couldn't pass up on the opportunity to come back because it's an awesome project."
Hill said working with the students and the artists has been a wonderful experience.
"I'm really enjoying it," Hill said. "It's helping me connect with my culture and my roots.
"This project is about building connections through art."
The mural and workshop was initiated by Cynthia Brink, the naturehood and priority place program coordinator for the Long Point Biosphere Region.
Brink brought everyone together for the project, which is being supported with $45,000 in funding from Environment and Climate Change Canada and Nature Canada.
The March workshop and the mural aim to help the students learn about treaty rights along with truth and reconciliation. Other projects are also being planned, Brink said.
The mural features earth, air, fire and water and seeks to connect people to the land, to each other and to nature, Brink said.
Swatez and De Luca have led efforts to create murals in communities around the world using art as a way for those who have suffered to heal and move forward.
They have worked on murals in refugee camps, in places devastated by war and in areas hit by natural disasters including hurricanes. Prior to coming to Long Point, the couple completed a mural on the Caribbean Island of Montserrat.
The island was devastated by a volcanic eruption in 1995, which killed 19 people and forced many others to flee their homes.
"It was a real gift to be able to hold space and to use paint, music and film to express the grievance that they have in tangible way," Swatez said. "Whatever the external adversity is, to be able to utilize the arts to reawaken the humanity within all of us."'
De Luca, who grew up in Halton Region, is familiar with Long Point because both of her parents moved to Norfolk County.
"It means a lot because we've done this kind of work everywhere around the world," De Luca said. "It's heartwarming to be able to bring this home and work with young people who want to be artists."
twitter.com/EXPVBall