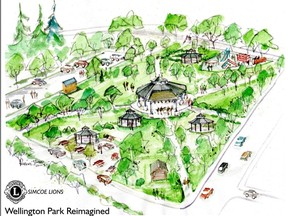 The Simcoe Lions Club has big plans for Wellington Park.
Article content
Club members feel the downtown park, site of the Simcoe Christmas Panorama, Simcoe Friendship Festival and other events, needs an upgrade.
Article content
Lion Barry LaPlante attended Norfolk County's council-in-committee meeting on Nov. 15 to share the club's vision. Preliminary plans call for the installation of a large gazebo/performance venue; upgrades to the park's water and electrical systems; the creation of a healing garden/quiet area; a new children's play area, defined picnic areas; improvements to the walkway system; expansion and improvement to the parking area; and, possibly, an outdoor, artificial ice skating rink.
"The history of Wellington Park is quite interesting," LaPlante told councillors. "At one time it was a swamp. At one time there was a ball diamond, which was second to none in Ontario. The ball diamond was replaced in 1967 to commemorate our centennial year. The fountain is now gone and not much has happened with the park since it was removed."
Article content
LaPlante said the Lions Club would "like to take the park to a new level" and has been working on its vision for it for more than a year.
"We want to make it a showpiece, make it a destination point," he said.
The club has hired local design consultant Robert Judd to prepare concept drawings and had discussions with representatives from Panorama and the Friendship Festival, county staff, Mayor Amy Martin and Simcoe councilors Alan Duthie and Doug Brunton.
LaPlante said the Lions aren't asking for any financial assistance from the county but would like assistance seeking out and applying for grants or other financial assistance from upper levels of government.
"Our club will be seeking financial and in-kind support from local businesses and industry and from the community at large through fundraising events."
Article content
LaPlante said the club has approved the first phase of the project, which includes the gazebo and water and electrical upgrades. It has also approved the formation of a Wellington Park building committee and a Wellington Park fundraising committee.
The club, however, doesn't yet "have the costings for these items," said LaPlante, adding that the timing of the project's start depends on talks with the county and scheduled events in the park.
"We don't want to disrupt them," he said.
Duthie called the plan a "wonderful initiative."
"Throughout the campaign period it was certainly one of the things I heard very frequently – what's happened to our parks?" Duthie said. "Simcoe used to be known for having beautiful parks and, unfortunately, some have fallen off that track."
LaPlante said consultants will be hired to ensure construction meets the necessary standards. The work will be done by professionals, with the help of Lions members when they're able.
Mayor Amy Martin said she fully backs the proposal.
"Thank you for the work on this," said Martin. "We'd be crazy not to take your support and run with it. This could be a great catalyst on our long span out journey to revitalize downtown Simcoe."