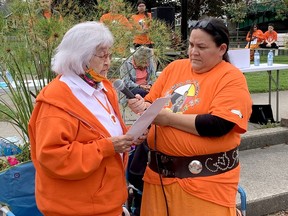 WALLACEBURG – It's been decades since Jennie Blackbird and Beverly Williams were ripped from their families and taken to residential schools in Ontario.
Article content
Years later, they tell their stories so today's generation can understand the devastating, intergenerational legacy of the government- and church-led initiative to assimilate Indigenous children by removing them from their families and preventing them from learning their own language and customs.
Article content
The two Walpole Island First Nation residents shared their personal stories with more than 200 people who took part in the second annual Healing Walk & Gathering in Wallaceburg on Friday.
As the years have passed, and the woman have taken stock of the impact of residential schools on their lives, they pull no punches in talking about the dark history.
Blackbird, nearly 94, was just a small child when she was taken to the Mohawk Institute near Brantford.
Article content
She said the churches were used by the federal government to operate residential schools. Even though churches were "supposedly under the rule of God, they were ruled by religion," Blackbird said.
"Religion and law always brings forth death," she added. "God brings life and love."
Williams was also a small child when she and her older sibling were taken from their family and shipped to the Shingwauk residential school in Sault Ste. Married.
The impact of that experience left Williams trying to learn to deal with trauma, years later as an adult, that she said was passed on to her children.
Her voice filled with emotion, Williams said "I had no one to nurture me, so I didn't know how to nurture my children.
"I had to acknowledge the abuse, before I could love and start my healing process," she added.
Article content
She said her residential school experience was normal to her, so she didn't realize the treatment she endured was abuse.
After becoming aware of the trauma she experienced, Williams said she found the strength and courage to tell her story.
"I did not understand the impacts and effects of the residential school system and what it did to me and my family, until acknowledged the harms that experienced," she said.
Noting her learning and truth-telling is her healing path, Williams said, "The more I talked about my experiences the more it lifted the layers of shame and humiliation."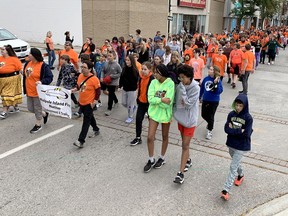 Blackbird said the government is still responsible for so much harm and great devastation.
"Residential school changed me," she said. "My confidence was shattered.
Article content
"I was depressed, I felt ashamed and I struggled with shock and trauma," she added.
Blackbird said she became shy and was afraid of people, especially white people.
"To me, every white person was a potential abuser, that's how I felt."
The experience also had a devastating effect on her relationship with her family.
Returning home, Blackbird was angry and recalled telling her family not to speak their language.
"I regret having said this to my loved ones," she said. "I can see now that it was a response to the physical, emotional and spiritual abuse from the school."
Blackbird said she shares her story "not to provoke guilt or pity, but rather to educate."
She said reconciliation is about repairing the relationships of the past and healing them.
Article content
"All Canadians need to be aware of what happened in the residential schools and the damage it caused," she said.
"We must look deeply into our souls, minds and present to society to learn our true character and make amends where it is necessary," Blackbird said.
Friday's event, a lead-up to the National Day of Truth and Reconciliation on Saturday, was organized by the Walpole Island Employment and Training Program together with the Municipality of Chatham-Kent Diversity, Equity, Inclusion and Justice Strategy.
Leela Thomas, program manager of the employment and training program, said "Reconciliation does not happen without the truth, no matter how hard or difficult that is. . . it must be told.
"It's about healing and empowerment, it's about rebuilding as a nation and to make sure that no child has to endure what the Indigenous people had to go through," she added.