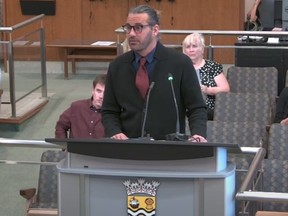 A Harvey's location in downtown Sarnia is poised to get a drive-thru, despite objections from residents in a neighboring highrise.
City council unanimously approved rezoning for the Christina Street restaurant that's been walk-in only since it was built sometime around 1976.
"We're extremely pleased with the outcome — surprised and ecstatic at the same time," said owner Okan Zeytinoglu.
City staff recommended council turn down his application in part because it goes against a bylaw that prohibits drive-thrus adjacent to residential zones.
Neighbors in a 12-storey condominium about 12 meters away said they didn't want to deal with more exhaust and noise.
"I have nothing against drive-thrus," said resident Howard Bartlett. "I think they're quite handy, but this location is far too close to a number of residential units."
About 48 units face the back of the restaurant already, he said.
Residents signed a petition and wrote letters of objection about the proposal.
Cheryl Cameron, another resident, said even though cars may move through quickly, idling can create significant pollution in an area.
There are also concerns about smells from garbage on site, she said.
count. Brian White said he sympathized with neighbours' concerns, but said there are other locations in the city where drive-thrus abut residential zones.
There's a need to be fair, he said.
"I'm not a fan of drive-thrus, never have been, never will be, but I do recognize there is a need within the community to have them," said Coun. Anne Marie Gillis.
"Certainly the pandemic made that very, very obvious."
Dine-in customers made up 80 per cent of the location's business 25 years ago, Zeytinoglu said.
Today, they make up 10 percent.
"This is important for the future of our business," he said.
"Without it, I don't see much of a future for us."
He wouldn't be able to justify spending $250,000-$400,000 on a required renovation without adding the option, he said. He expects to increase sales by about 20 to 30 more guests per day.
Before anything happens though, he wants to figure out a compromise with neighbours, he said.
"First thing tomorrow morning," he said after the decision.
Plans were already to build a 2.5-metre-high wooden fence to replace a chain-link one and pay for greenery along the property line, he said.
"We believe in the long run that they're going to be much happier with this."
Hopes are to begin renovations, including facade improvements, equipment upgrades, and maybe some demolition, within the next three months, he said.
"We'll also be doing some interior renovations," he said. "A lot to do with Canadiana — the heritage of Harvey's in Canada."
Renos will also reduce the number of seats and bring the number more in line with parking space requirements under the city's bylaw, he said.
"The biggest thing is we need an upgrade to the exterior," he said. "We're going to be putting up basically a new building. The (110-square-metre) footprint won't change, but the exterior will change dramatically."
Council spent about two hours considering the request at the May 15 council meeting.
"I want to say a big thank-you to our councilors," Zeytinoglu said.
"I know many of them walked in there with a predisposition to vote against this, but I'm glad they support local small businesses."
The restaurant employs about 20 people and will "absolutely" be hiring more with the expected extra business, he said.