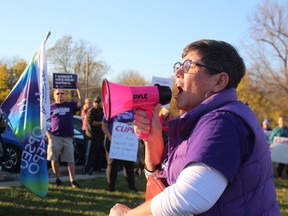 Education workers in a showdown with the Ontario government rallied Tuesday evening with their supporters, picketing along Christina Street outside the office of Sarnia-Lambton MPP Bob Bailey.
Presidents of Canadian Union of Public Employees (CUPE) locals representing educational assistants, custodians, early childhood educators, library and computer technicians, and other support staff at the two largest school boards in the Sarnia area denounced the government's decision to introduce legislation to impose a settlement and ban a strike.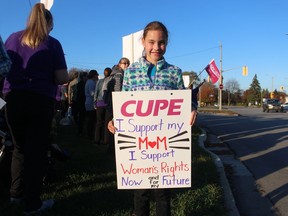 The union previously announced its members would strike Friday if a deal wasn't reached and has since said its members won't be on the job that day without a new contract, regardless of a ban.
CUPE negotiators presented a counter-offer late Tuesday night in response to the imposed contract terms in the legislation and the government is to review it.
The union did not provide details of what it was proposing. The government has said it would return to the bargaining table if the mediator asks and wanted to hear if CUPE's new offer was "reasonable."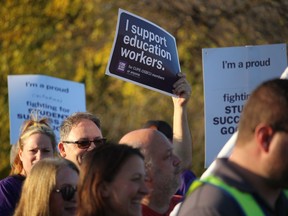 Education directors with the Lambton Kent District and St. Clair Catholic District school boards have both issued letters to families warning schools will close Friday if the union withdraws services.
"Without the important services of these school-based employees, the board cannot ensure learning environments will remain safe and clean for all students," Scott Johnson, education director for the local Catholic board, said in his letter posted on the board's website.
"Let's get a deal done through correct, legal, within-out-rights, bargaining – not through legislation shoved down our throats," said Michele LaLonge-Davey, president of CUPE Local 1238, representing about 1,000 workers at the local public board.
"We just want what's right," she said.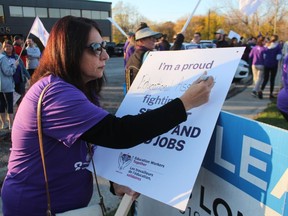 Dave Geroux, president of CUPE Local 4168 representing just over 600 workers with the local Catholic board, said they are still hopeful of reaching a bargained settlement.
"That is what's in everyone's best interest," including the workers, students and parents, he said.
If that doesn't happen, "we can't accept the steps that they're taking," Geroux said.
"The right to strike was hard fought for and it's not something that members should lose. It's there for a reason and we're seeing that reason right now."
With files from The Canadian Press
[email protected]stmedia.com