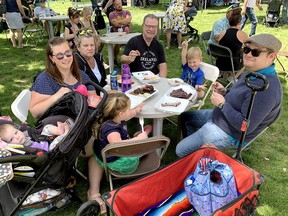 The melding of Retrofest and Ribfest has proven to be a winning combination.
Thousands of people have flocked to downtown Chatham for the event dubbed 'Rims and Ribs.' Vintage cars lined along King Street from Third Street to Adelaide Street on Saturday and Tecumseh Park was full of people enjoying ribs and the wide range of entertainment offered.
The Woisnet family, including Nick and Catherine of Wallaceburg along with their children Zedekiah, 5, Jubilee, 3, and Aidah, 11 months, were joined by relatives Dave and Elizabeth Woisnet, of Ohio.
"We're glad that it's back and in full swing," said Catherine Woisnet.
She said the family likes the fact Retrofest and Ribfest have been combined.
"There's lots for everybody to do," Woisnet said.
"The kids love the cars and we're here for the food," she laughed.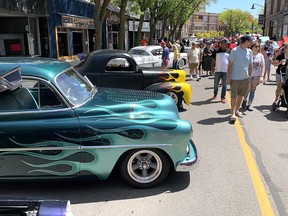 Nick Woisnet was enjoying a full rack of ribs as they sat in the shade in Tecumseh Park.
"Best ribs ever and I look forward to them every year," he said.
Dave Woisnet said they enjoy the entertainment and "the people watching."
More than 600 vehicles were on display.
Brian Chambers, a member of the Kent Historic Club, which helps organize Retrofest annually, said the event has never charged an entry fee since it began.
"So I think that's a big plus."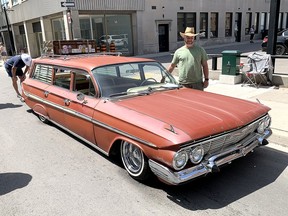 Kevin Moore, of Oil Springs, brought his 1961 Chevy Nomad station wagon to the show for the first time.
"I'm really happy to be part of the show; it's a great show you've got here," he said.
He found his Nomad about six years ago after about a 10-year search.
Moore not only shows the vehicle, he uses is regularly.
"I just like that it's nice and big and you can go camping in it."
When asked how much work he's done to restore the vehicle, Moore said, "Pretty much every nut and bolt on it."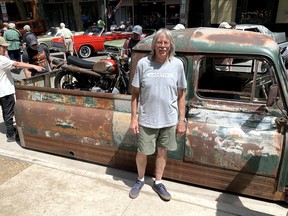 Bill Coulson of London was attracting a lot of attention with his Austin J2 window from the 1950s that he has converted into a low-rider pickup truck.
He cut off the curved section from the rear of the van and used it to create a cab area for passengers and opened the back to create a pickup.
"I was able to use original glass that has been in the side (of the van)."
He described it as "kind of an orphaned pickup truck" that he uses to transport his motorcycles.
Noting the vehicle is his own creation, Coulson said, "Maybe some people don't understand it, but a lot of people think it's creative."
This is Coulson's first time at Retrofest and he was impressed.
"It's awesome," he said. "I can't believe how many people and how many cars are here, it's amazing."
Rims and Ribs continues today and Sunday.