The retrial of a man charged in a bizarre Huron County homicide of a field dog rival at a Clinton conservation area will be heard in Elgin County.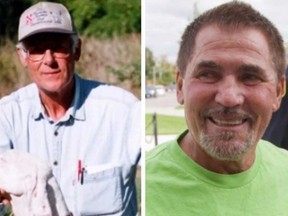 The retrial of a man charged in a bizarre Huron County homicide of a field dog rival at a Clinton conservation area will be heard in Elgin County.
Boris Panovski, 78, who won a retrial of his first-degree murder trial at the Ontario Court of Appeal in December 2021, will have his jury trial in St. Thomas, not Goderich where he was convicted by a jury in June 2018 in the death of Don Frigo, a Caldeon construction executive, and for wounding Frigo's wife, Eva Willer Frigo.
The couple was shot while on horseback and training field dogs at the Hullett Conservation Area, north of Clinton, on Sept. 13, 2014.
The change of venue for the retrial was made official on Tuesday at Goderich's Superior Court assignment court. Panovski appeared briefly from a London-area jail by video link, although his case was never called.
When Elgin-Middlesex Detention Center guards asked when Panovski's case would be dealt with, Justice Marc Garson told them the case had been "administratively transferred" from Goderich to St. Thomas, where Panovski is slated to appear for trial scheduling on May 29.
Regional Senior Justice Bruce Thomas made the decision in January to move the trial out of Huron County, pointing out Panovski's defense lawyer Christopher Hicks was unavailable until early 2024 for Panovski's six-week trial.
Hicks is the defense lawyer for Nathaniel Veltman, 22, the London man charged with four counts of first-degree murder and one count of attempted murder in the deaths of the Afzaal family who were killed by a speeding pickup truck almost two years ago.
Veltman's 10-week jury trial is slated to begin in September in Windsor.
Thomas wrote in his endorsement that because of a number of judicial vacancies in the region, he had canceled some trials in Goderich in 2023.
Because the trial schedule had been pushed forward, "it is not possible to impose this six-week trial on what will be an over-burdened 2024 schedule in that location," he wrote.
By moving Panovski's trial to St. Thomas, Thomas wrote, there was a better chance for an earlier trial date.
Panovski, a former hair stylist who rose to the top of the field dog breeding world, denied any part of the shooting that killed Frigo and injured his wife.
He had been an in-demand breeder, including breeding dogs for wine magnate Gabe Magnotta, but began feuding with Frigo after Panovski had been shunned by the tight-knit bird-dog community.
The feud began after reports Panovski had committed an indecent act in a Waynesboro, Ga., parking lot, leading Frigo to distance himself from Panovski, along with a champion dog Panovski triained.
After his breeding career collapsed, the Estonia-born Panovski was out of the dog business.
There was a mountain of circumstantial evidence at the original trial tracking Panovski's movements the day of the shooting, and Panovski, as colorful a character as the court has witnessed, maintained his innocence.
The case was sent back for a retrial by Ontario's highest court largely because of an "inadequate and unbalanced" charge to the jury by the presiding judge.
The case returns to St. Thomas on May 29.