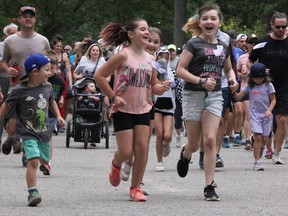 Tiffany Cater was six years old when she says she was diagnosed with acute lymphoblastic leukemia.
That was in 1992, she told a crowd gathered in Canatara Park for the annual Terry Fox Run in Sarnia Sunday.
"At that time, the research and knowledge wasn't as advanced as today," she said.
Cater recalled radiation and chemotherapy, and a virus in her brain that impacted her memory, hearing, vision, and mobility.
"I was pale and sleeping day and night," said Cater, this year's Terry's Team Member.
"It's a miracle I survived."
Sunday, she told an estimated crowd of more than 250 people she was living proof of the impact of research developments, funded in part by runs in memory and honor of Fox's Marathon of Hope.
"Terry said 'I am not a quit,'" said Cater, referencing this year's slogan
"Well neither am I," she said.
Oncologist Dr. Ken Yoshida said the advancements in cancer treatment have been significant in the 42 years since Fox inspired – running about a marathon a day for 143 days with one prosthetic leg.
Breast cancer's five-year survival rate for instance has gone to 90 from 50 per cent, Yoshida said, while the lung cancer survival rate has gone to 26 from 11 per cent.
"Science is still important in our fight against cancer, and the Terry Fox Foundation is very important," Yoshida said, recalling research projects as close as London have benefited from the $850 million raised to date by Terry Fox runs across Canada.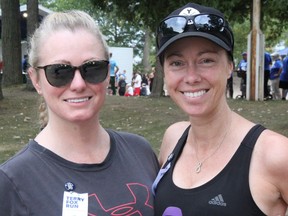 "That's what this is all about," said organizer Laurie Rome.
"That's why we're all here. So there will be more survival stories like Tif's."
She noted Sarnia's campaign had already raised $35,000 going into the day, with the total expected to rise.
"I think it's going to be a really good year," Rome said.
The event in 2019 raised $51,000.
Runs without any mass gathering, in 2020 and 2021, raised $35,000 and $43,000 respectively.
"The last two years we've been virtual," Rome said, noting Sunday's return to an in-person event felt special.
"It's a good feeling."
Nichole Coolledge and her friend Trish Simon were among those participating for the first time.
Coolledge said her husband Ken Thorner died in August after a three-year fight with esophageal cancer.
She'd done other fundraising runs for him in the past, she said, including a half-marathon.
She and Simon decided about two weeks ago to do the Terry Fox Run to honor Thorner, she said.
"We're not doing it for time. We're doing it for him."
Five cancer survivors including Cater were led by a bagpiper before the run's official start.
Wendy's Walkers, with 25 members, took this year's trophy for largest team.