Alicia Van Bree wiped away a tear before she was escorted out of the courtroom to begin her five-year prison sentence for causing a deadly crash while driving drunk.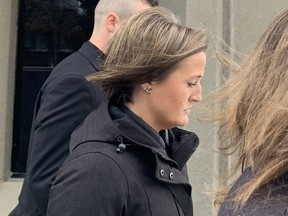 Alicia Van Bree wiped away a tear before she was escorted out of the courtroom to begin her five-year prison sentence for causing a deadly crash while driving drunk.
At a previous court appearance, she vowed to honor the short life of the little girl who died in the Middlesex County crash more than two years ago. She listened to the girl's father tell her she was forgiven and, as the judge noted in her decision Wednesday, his recognition of "the heavy burden to carry for the rest of her life."
In many ways, the 35-year-old Strathroy woman typifies the usual impaired driver who find themselves before the courts: law-abiding, remorseful, employed — in this case as a personal support worker — with strong ties to the community. Van Bree also was still dealing with the loss of her father in 2016.
As Superior Court Justice Maria Carroccia said in her sentencing decision Wednesday, Van Bree never intended to go out on July 17, 2020, and kill Nihal Toor, the eight-year-old daughter of an International Monetary Fund diplomat and the shining light of her Virginia family, or to seriously insult the girl's grandmother, Jasbir Samra, in a crash just outside Strathroy
However, Carroccia said, Van Bree's "moral blameworthiness is high" and the courts, as they have many times before, must craft a sentence "to reflect the public's condemnation of this conduct" and send a message to others that might choose to drive after drinking.
But as was highlighted by assistant Crown attorney George Christakos during Van Bree's sentencing hearing in November, and noted by Carroccia Wednesday, the message has been repeated over and over in London courts in cases of impaired driving causing death in the city and in the county.
Christakos had suggested a sentence of eight years in prison. Defense lawyer Ron Ellis had argued for a two- to three-year sentence.
Van Bree pleaded guilty in August, after an unsuccessful constitutional argument, to impaired driving causing the death of Nihal, who was days away from her ninth birthday at the time of her death, and to impaired driving causing bodily harm to Samra.
Shortly before 10 pm on the day of the crash, Nihal's mother Baljinder Samra Toor, was driving east along Egremont Drive following a family outing. Van Bree was westbound and wanted to turn left onto Hickory Drive. She put on her signal, then turned into the path of the Toor car, which had the right of way, causing the violent crash.
Carroccia noted that Van Bree wasn't speeding or driving erratically, but officers at the crash scene quickly concluded she had been drinking and further breathalyzer tests revealed she had a blood alcohol level of between 140 and 170 milligrams of alcohol in 100 milliliters of blood, readings that, at the high end, were double the legal limit for driving.
Nihal was a passenger in the car, riding behind her mother, when Van Bree's car hit them at an angle. She took the brunt of the collision and suffered fatal injuries when the car was whipped around by the impact. She died in hospital the day after the collision.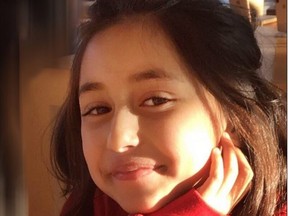 Her grandmother, also a passenger, suffered a broken leg, ribs and collarbone.
Carroccia made special mention of "the indescribable grievance" expressed in victim impact statements from Nihal's sisters and parents at Van Bree's last court appearance.
"It is difficult to appreciate the magnitude of the impact of the senseless loss of their eight-year-old daughter," the judge said. "The depth of their grievance was felt by all who heard their words."
She pointed to the words of Nihal's mother, who said their youngest child was "the tie that bound their family together, which has now been broken."
Nihal's father, Sukhwinder Singh, the judge said, told of his daughter's remarkable spirit and said directly to Van Bree, "like everybody whose soul she crossed, I hope your life too is changed for the better by Nihal."
For her part, Van Bree has changed her life since the crash. Her only previous brushes with the law were for speeding and traffic tickets. She has taken counseling for alcohol abuse and has spoken publicly to others about the dangers of drinking and driving.
Carroccia quoted Van Bree's promise to honor Nihal's memory every day and her comment about how what happened has "irrevocably changed (her) life."
The goal, through sentencing, the judge said, is to convince others not to drink and drive before another child like Nihal or anyone else is killed.
"The sentencing objectives of deterrence and denunciation are particularly relevant to offenses committed by ordinarily law-abiding citizens, such as impaired driving offences," Carroccia said.
In addition to the prison term, Van Bree is prohibited from driving for 10 years.
At the conclusion of her decision, Carroccia wished Van Bree well and thanked the lawyers for handling what she described as "a very difficult case."