Changes are happening at the 34-year-old firing range at Sarnia police headquarters, to address what officials say are health and safety issues.
The 1989-built, approximately 50-foot range has a steel backstop that was recently flagged for replacement because it doesn't slow bullets enough to prevent them from fragmenting on impact, leaving concerns about lead particulate in the air and on surfaces, police Chief Derek Davis said.
The service's board recently approved $103,000 for a rubber backstop.
It'll slow and absorb bullets over time, and will need to be replaced piecemeal at a rate and cost officials didn't immediately know.
But it's the most cost-effective solution, Davis said, when compared with potential travel and overtime costs driving to other ranges in places like Chatham or Windsor, or the cost of building a new range, estimated at $5-$8 million, not including the cost of a facility to house it.
"It sounds like (the rubber backstop is) a good solution for the next number of years," board chair Paul Wiersma said, adding if another facility were built "down the road, then they would not design the firing range in the way that it is."
All sworn officers have to annually qualify on firearms, firing from 45 feet away as stipulated by the Police Services Act, Davis said.
The current range is about 50 feet and the addition of blocks and armor will take up another two feet, he said.
"So the solution we had to look at had to maintain that minimum distance," he said.
The board also approved a $31,000 contingency in case issues arise working in an older building.
The funds come from the police budget's facility retrofits reserve fund, officials said.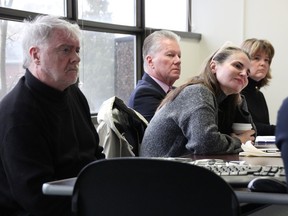 Meanwhile, other renovations are planned and ongoing at the police station, using $200,000 approved in 2020 but deferred amid the COVID-19 pandemic, Davis said in a report.
Full costs haven't been determined, he said.
Renovations include plans to install a new front desk with bullet-resistant glass, and a lower counter height in May, as well as upgrading the front steps and visitor parking area to meet accessibility requirements.
Over the summer, building control and mechanical systems like air handlers are in line for replacement.
Drywall repairs, converting a cafeteria for the new IMPACT team, creating an employee wellness and quiet room, and creating a multi-purpose meeting room off the building's lobby are already underway or completed, he said.
The board puts in the new multi-purpose room for the first time on March 23.
"We're on the unsecured side, so we feel more that this will be better for members of the public," Wiersma said, adding "It's a little bit more spacious as well, so appreciate that."
The board's former meeting room on the service's second floor has already been converted for police use, he said, noting the board is also considering adding tech to the new space to stream meetings.
The 1987-opened headquarters was designed for the service size prior to amalgamation with Clearwater Township in 1990, Davis said in a report.
As the service has grown, it's become more pressed for space, prompting the renovations at headquarters and, three years ago, opening a larger leased training facility at Lambton Mallhe said.
Building a new station would cost tens of millions of dollars and isn't recommended at this time, he said in a report.
"A limited and phased renovation to optimize existing space is the most economical way to address immediate facility concerns," he said.