Some skilled pilots were performing incredible feats of flight at the Chatham-Kent Municipal Airport Saturday while keeping both feet firmly planted on the ground.
The ThunderThrust radio-controlled airplane event featured participants from across Ontario and into Quebec, including many who work as a pilot, said organizer Peter Doupnik.
"This is the high-end of the hobby what you're seeing here," said the Windsor resident. "To get to this level you've got a few years under your belt, you've flown a lot of other airplanes."
Noting the model planes are powered by a real turbine engine that can reach speeds in excess of 200 km/h, Doupnik said pilots have to be certified to fly the type of radio-controlled aircraft that was in the air on Saturday.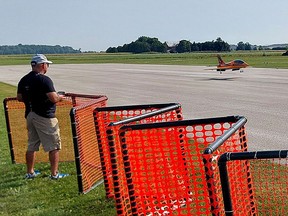 He said the way these radio-controlled airplanes land is "completely different" than other planes, because they have a "throttle lag.
"When you throttle back, on a normal airplane it slows down in about a second, but one these it might slow down 10 seconds later," he added.
Noting the pilots are always leading the airplane, Doupnik said, "You have to be ahead of it, that's what takes so long to learn, that's the skill set you need."
He said it takes a minimum of $2,500 to get into the hobby at this level, adding he's seen model airplanes worth up to $40,000.
Doupnik said there is a huge social aspect to the hobby because you are spending time with people who have a common interest.
"Because this is such a challenging hobby, you are always learning something new every year," he added.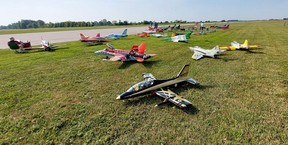 Elekar Monsalve, originally from Venezuela, now living in Ottawa, was piloting his sport jet on Saturday.
He said sport jets are not a replica of a real airplane, but rather are built specifically for radio-controlled flight at high speeds.
"It has more capabilities, it can perform a knife-edge, four-point rolls, eight-point rolls, more easily than a scale (model) jet," Monsalve said.
He enjoys the social aspect of the hobby as well as flying and building planes.
Monsalve, who has been involved in the hobby for 12 years, said he is preparing to attend an international competition in Lakeland, Florida next year with the hopes of representing Canada.