Based on an updated design and a steep estimated-cost increase, Perth County council voted at a special meeting Thursday to move ahead with a project that would, if approved for construction, connect the Perth County courthouse with the building that houses the county's land- registry office to establish a central county headquarters.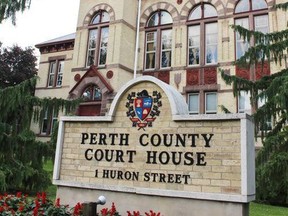 While an updated design for a project aimed at connecting the Perth County courthouse and the county's land registry office building carried a steep updated price tag, county councilors still voted to have staff prepare permit drawings and put the work out for tender as soon as possible to keep costs from climbing even higher.
Intended to establish a single headquarters for county staff through renovations to the building that houses the land registry office and Service Ontario while creating a central, public-facing reception area within a connecting-link addition with the county courthouse, council was initiall presented with a rudimentary design at an estimated cost of $2.1 million at a meeting in the fall of 2021.
Since then, the scope of the project has grown to include a new sidewalk along the front of what will be the combined county headquarters building and around the back to a rear entrance of the registry building at 5 Huron St., parking lot resurfacing and other site work, the installation of at least three new HVAC units, and an increase in the project's overall footprint from about 930 square meters (10,000 square feet) to 1,077 square meters (11,062 square feet).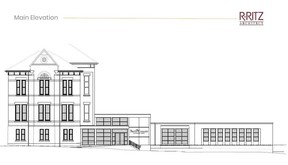 Combined with a roughly 20 per cent spike in labor and material costs since that initial design was presented, and a built-in contingency of about $1.2 million or 25 per cent of the updated budget, representatives from Toronto-based interior design firm Mayhew Inc. and local architect Robert Ritz presented county council Thursday with an estimated – and potentially inflated –budget of $4.8 million.
"As we tighten our design and we move towards tender … we are going to see the actual, real number … and hopefully that 25 per cent contingency is going to be drastically decreased because the budget was done based on minimum information available and it is an inflated number," said Golnar Raissi-Dehkordi, a senior registered interior designer with Mayhew.
Paul Bradshaw, a Mayhew vice-president, noted these kinds of cost increases aren't unique to the Stratford project.
"We are seeing these types of cost escalations … everywhere. … It's just the cost of materials that we're seeing right now," he said.
While some councilors grappled with these cost increases, others, including outgoing Perth County Warden Jim Aitcheson, suggested the county needs to move ahead now or risk the possibility of inflation driving the costs of materials and labor even higher.
"The one thing you have to keep remembering here is this has a 25 per cent contingency built into it. That is $1.2 million, by my math, so that $4.8 million could become $3.6 million and that's all depending on what happens in the next six months or so. In the recession-proof economy we're living in, these figures could come down drastically. Could they go up? Well that's why your contingency is built in.
"All I'm going to say is we knew this was going to happen. It's not a surprise, but the longer we delay – the longer we stall – the more it's going to cost you. And if you want to talk about a new build, you're … not going to have half (of county staff) in one spot and half in another. So you're looking at millions of more dollars than what we're looking at here. It makes perfect sense of what we're doing. It took us way too many years to get to this point, but it's time we made a final decision and moved on."
Speaking after the meeting, county public works director John McClelland clarified that council's decision to move the project to the tender stage does not mean the project has been approved for construction. Once the new council has the opportunity to review contractor bid prices after the tender period ends, likely in early 2023, councilors can decide whether to move forward with the project based on those prices.
"Council approved for us to get those (permit) drawings done so we can go out to tender with the contractors that we pre-qualified. We did that back in September. … We expect the tenders to come in below the $4.8 million. The tender price is really what will give us a good indication what this project is really worth given the current market," McClelland said.
McClelland also confirmed that Stratford's Service Ontario office will be moving out of 5 Huron St. and into another location by the end of this year. As the owner of the building at 5 Huron St., Perth County gave Service Ontario a year's notice that its lease would be terminated, McClelland said.