A lot of Port Dover residents ignored the bitterly cold winds blowing off Lake Erie to give Santa and Mrs. Claus a warm welcome on Saturday.
Wearing heavy winter coats, toques and mittens a large crowd gathered at the Port Dover pier to await Santa's arrival just before 1 pm
But the parents and kids didn't arrive too early.
At 12:30 pm there only a couple of people on the pier and others were huddled in the doorways of shops on Harbor Street to escape the wind and snow squalls. More people arrived a few minutes later followed by a wave of excited children accompanied by parents just before Santa's arrival on the Eau Clipper.
Celeste Vandromme, 7, her little brother Elias, 4, were at the pier with their mother Stephanie. They're from Oakville and had come to Port Dover for a visit on Friday.
When they heard about the parade on Saturday, they got bundled up and headed to the pier.
Celeste was thrilled to be able to meet Santa and Mrs. Claus while Elias stayed cuddled up to his mom's arms.
Following the parade children had an opportunity to visit Santa and Mrs. Claus at the Lighthouse Festival Theatre.
Santa's visit to Port Dover was part of the town's annual Christmasfest, which this year included snow squalls and bitterly cold temperatures.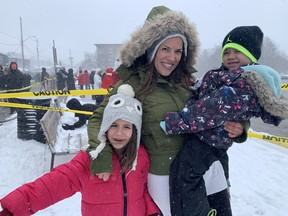 But the less than ideal weather didn't stop school students, Scouts, or other groups from participating in the event.
"To be honest, I didn't even check the forecast for Port Dover this morning," Quinn Findlay, a Cambridge resident and member of the Paris-Port Dover Pipe Band, said with a smile. "I looked out my window, saw it was pretty nice out and thought it was going to be a nice day.
"I got halfway here and thought 'uh oh maybe it's not going to be so nice after all.'"
But the weather didn't determine him or other members of the band.
"The cold weather is hard on the instruments but we got here early and tuned them as best as possible," Findlay said. "We really enjoy being here.
"This community has supported us from day one and we really appreciate that and we want to give back as much as possible."
Abby Furler, a Grade 8 student at St. Cecilia School in Port Dover, organized a float for the parade and wasn't at all deterred by Saturday's weather.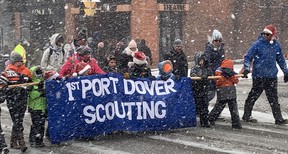 "Oh well," she said when asked about what she thought after walking up to snow squalls and frosty temperatures.
She was unfazed by the weather and was looking forward to the parade. But her favorite part of Christmas is spending time with loved ones – her family, friends and her classmates.
Ev Deming, the parade marshal for Christmasfest, was decked out in a bright red Christmas coat and hat. She spent the morning making sure all of the parade participants were ready to go.
Deming has been with ChristmasFest since Day 1 beginning as an elf before taking on the role of Mrs. clause. She took a year off for medical reasons and came back as a Christmas present and has been the parade marshal for 10 years.
"This, my dear, other than July 1, is my next favorite day in Port Dover," Deming said.
She was a little concerned about how the weather would affect Santa's arrival and the horses that pulled his carriage.
"But you know what, this is Port Dover and it always shines in Port Dover."
Other ChristmasFest activities included crafts and a scavenger hunt for kids at the Harbor Museum, shopping and draws for gift cards at businesses, horse-drawn carriage rides and the Hospice Holiday Tree of Hope light up ceremony in Powell Park.