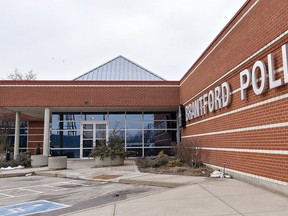 Brantford police are sounding the alarm over a scam in the community targeting older residents.
Police early Thursday received a report about two people misrepresenting themselves as police officers. One purported to be a Brantford police officer while they other purported to be with the RCMP.
"If a member of the public ever has a concern regarding the identity of an officer, their identity can be confirmed by contacting Brantford police at 519-756-7050 with the name and badge number of the individual in question," a Brantford police spokesperson said.
Police are advising people to wary of the so-called grandparent scheme.
Under the scheme, the fraudster contacts the victim, often an older person, claiming a family member is in crisis and needs money. Usually, the victim is instructed to send money immediately, the spokesperson said.
Sometimes, a second call will be made from someone pretending to be a lawyer or police officer. Scammers will advise the victim that a payment for bail or a fine is required to have their loved one released.
If the victim agrees to pay the requested amount, arrangements will be made to pick up the funds in person with a "courier" or the victim will be asked to send cash in the mail.
The victims are often told they risk going to jail if they talk to anyone about the investigation.
Police said that, in 2022, local residents lost $67,000 to scammers using the grandparent scheme. A total of $663,800 was lost to scammers operating other frauds, including romance and CRA scams.
Following are tips to protect yourself and loved ones from scammers:
Take time to think. The fraudster will make it sound urgent and will pressure you.
Contact the family member in question. Emotions may be running high but take the time to check.
Ask questions only family members would know.
Call someone you trust or police for an opinion about the call.
If you suspect it is a scam, just hang up.
Conduct your own research to determine validity.
Do not send any money.
Brantford residents who believe they have been a victim of fraud can call police at 519-756-7050 and your financial institution immediately. Frauds can also be reported online at www.brantfordpolice.ca/online-reporting.
twitter.com/EXPVBall