A Point Edward woman is awaiting her sentence for arson after intentionally starting a $150,000 fire in a Lambton County-run apartment complex that displaced nine families, but a report on her mental health will have an impact on the judge's final decision.
Anne Epstein pleaded guilty last week to a reduced charge of arson linked to the May 8, 2021, blaze at Huronview Apartments, a cluster of 10, one-bedroom units on Fort Street that was fully occupied at the time. The court heard Epstein, 64 at the time, used a fire accelerating to intentionally and recklessly start a fire in the corner of her living room around 2 pm that Saturday.
Then she left.
Point Edward firefighters rushed to the scene and found a fully engulfed fire coming from her unit. They were able to contain and extinguish the blaze, but the damage was done.
"The complex sustained damage that is initially estimated at approximately $150,000," assistant Crown attorney Josie Baier said while reading an agreed statement of facts. "The event also resulted in nine families being displaced from their homes."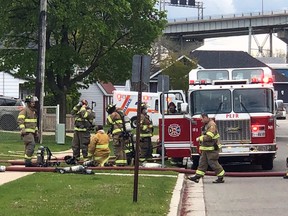 Concerned the fire was suspicious, Point Edward fire officials called provincial police later that day. Police and the Ontario Fire Marshal investigated, leading to Epstein's arrest. She was charged by Lambton OPP with arson: disregard for human life and released on bail the next day.
Nearly two years later, Epstein pleaded guilty instead to the lesser included offense of arson: damage to property. But she wasn't sentenced as defense lawyer Joseph Stoesser asked the judge to order a pre-sentence report from the probation office.
He also requested the probation officer focus on Epstein's mental health prior to and at the time of the incident.
"As well, your honour, all of the positive steps that Ms. Epstein has taken since the event," he said to Justice Krista Lynn Leszczynski said.
It typically takes eight to 10 weeks to get a full pre-sentence report. Epstein, who now lives in a different area of ​​the village, is expected to be sentenced in late May.
Huronview Apartments is one of 16 apartment buildings managed by Lambton County's housing services department.