Facility marked 50th year in 2022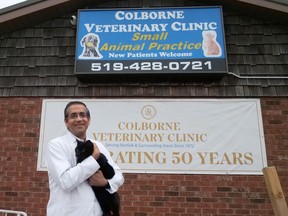 Colborne Veterinary Clinic has 50-plus-one reasons to celebrate the New Year.
The veterinary clinic, located on Highway 24 just north of Simcoe, marked its 50th anniversary in 2022 serving the Norfolk, Haldimand and Brant county areas.
"We treat all the clients with enormous respect," said owner and veterinarian Dr. Paul Arora, "and we take pride in the quality of services we provide. We don't aim to do it from a business perspective, we simply try to serve them the best we can and with a happy and smiling face."
Over the last 50 years, the clinic has been a full-service animal hospital that offers emergent and non-urgent medical, surgical, and dental care.
"We are not one of the biggest clinics in the area… but we are still holding our own with the big, giant clinics we have in the area. I think in a small community, it matters even more because everybody knows each other and I think we become just like a family. We know our clients by name, we know their pets by name, and that is how we bond."
Fifty years ago Dr. Ken Moore began practicing out of his home in Villa Nova, east of Waterford. In order to meet increased demand for small animal care, Moore purchased property on the outskirts of Simcoe, and in 1972 the Colborne Veterinary Clinic was built. Its name pays tribute to the former Colborne Village where the clinic was originally founded.
In 1977, Dr. Shane Renwick joined the team. Moore made the decision shortly after to step back from the practice due to unforeseen health complications. Renwick recruited Dr. David Horton as a business partner in 1981, and they remained partners until late 1988 when Renwick stepped back, leaving Horton as the sole owner. In 1993, the clinic underwent renovations to better suit patient needs.
Arora purchased the clinic on July 1, 2010. Over time, the small animal practice has continued to grow and so has their team. Today's clinic family consists of veterinary technicians, assistants and client care representatives, each with their own strengths to ensure gold standard care.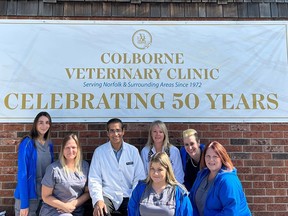 From routine care to emergency visits, the clinic's website states 'we treat your pets like family.'
In the summer of 2017, Dr. Carol Richards joined the Colborne Veterinary Clinic team alongside Arora. Richards has a special interest in exotic animals, ranging from small rodents to birds and rabbits.
In the last five years the clientele base has grown significantly, both from Norfolk County and Brantford, which led to the introduction of a sister clinic in Brant County. In November 2018, the Burford Veterinary Hospital was added to the family.
"It has the same type of services, and everything is the same," said Arora. "Staff alternates between the two clinics back and forth, but we have separate doctors. As well, they do work at either location just in case there is any such requirement. We usually try to serve this (Simcoe and Norfolk County) side clients with this clinic (Colborne Veterinary), that is our prime area, just so they are closer, but we also have lots of clients from Brantford area as well."
During the pandemic, there were some struggles finding employees, Arora noted. The clinic sustained its growth, however, trying to add two staff as one left, and they continue to regain staff.
"Everything is going as well as it can go," said Arora, "and the clients are happy, although the COVID time was definitely stressful for them and us as well. But we continued to provide them services the way circumstances did allow us."
Dr. Meaghan Clench joined the team in 2021 to assist the growth of the Burford Veterinary Hospital, which saw expansion renovations to better serve the community.