Luciani returns as vice-chair for fourth year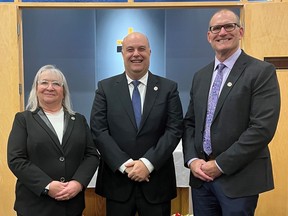 Rick Petrella was acclaimed chair of the Brant Haldimand Norfolk Catholic District School Board at its recent inaugural meeting.
This is Petrella's ninth consecutive term leading the board.
Carol Luciani, who represents Norfolk County, will begin her fourth consecutive term as vice chair.
Petrella, who represents the City of Brantford, has served on numerous board committees, including audit, budget and strategic planning.
"As I look over the last year, I am filled with pride for the work we have done," he said. "Navigating the pandemic, numerous capital improvements in existing buildings, opening two new childcare centres, working alongside public health to ensure student and staff safety, working with the Ministry of Education to secure funding for a new elementary school in Haldimand County, and a lot needed secondary school in Brantford.
"I thank you for, once again, putting your faith in me."
The 2022 to 2026 board of trustees also includes Dan Dignard, who represents the County of Brant; Mark Watson (Haldimand County); Dennis Blake (Norfolk County); and Bill Chopp (Brantford).
In his inaugural address, Petrella said student enrollment "has exploded" at the Catholic board with an increase of about 10 per cent.
"Our board is growing and expanding at an exponential rate. With a growing student population comes the need for significant investment in new schools in our district."
The board has started the design process for a new Catholic elementary school in Caledonia, with construction scheduled to start in the spring. It has also started planning for a multi-million-dollar revitalization of the sports field at Assumption College.
The board is in the final stages of negotiations, said Petrella, to purchase 17 acres of property in the north end from the City of Brantford for the construction of a $45.7-million Catholic secondary school.
"This project will be the flagship of our board, with a strong focus on academics, trades and state-of-the-art technologies."
The new school is scheduled to open in September 2026 and will be the first new high school in Brantford since 1992.
"This investment from the provincial government was the largest capital investment by the province during the last round of capital allocations and will create hundreds of new teacher and support staff positions in our board."
In his address, Petrella also affected on labor issues, which have recently affected workers in the public school system.
"As a parent with a child in our system, I know that labor uncertainty is on the mind of everyone. We are committed to keeping students in the classroom. Historically, our board and our union partners have worked very well together and hold a fundamental respect for each other."