Another local resident has fallen victim to a Publisher's Clearing House scam, this time to the tune of more than $32,000, Stratford police say.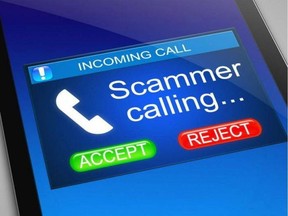 Just one week after Stratford police announced a St. Marys resident was taken for $73,000 through a Publisher's Clearing House scam, police reported Thursday that a Perth South resident recently lost more than $32,000 in a similar fashion.
Police said the resident was contacted in mid-February by a man who identified himself over the phone as an employee with Publisher's Clearing House. The suspect claimed the resident had won a $12-million prize through the sweepstakes. The resident was first directed to send money to the caller using pre-paid Visa cards to cover the taxes on the prize money.
While they sent some money to the scammer initially, the resident came to believe the jackpot was fraudulent and refused to send any more money. However, they were later contacted – and convinced – by a second scammer and arrangements were made to send money through various bank accounts.
Police believe the scammers gained access to the victim's bank account and made it appear money was being deposited, which they were then instructed to forward to other accounts. In total, the resident transferred $32,500 to the scammers before their bank froze the account and advised them to call police.
On March 16, police reported a similar scam involving a St. Marys resident who received a phone call in January from someone claiming to be Publisher's Clearing House employee and promising a $5 million prize and a new luxury car.
Several people describing themselves as Publisher's Clearing House employees also asked that resident for money to cover taxes on the cash prize and the Mercedes supposedly won in a random draw, police said.
The resident ultimately sent about 25 e-transfers to the scammers.
"Please be aware of these types of scams and learn how to protect yourself," Stratford police Const. Darren Fischer said last week. "You will never be asked to pay money in advance of receiving a prize. Don't let fraudsters pressure you to make a decision. Take your time by hanging up the phone and doing some research on what is being offered. Most importantly, share this information with others."
The Canadian Anti-Fraud Center reported $530 million in victim losses last year. About 4,000 fraud victims reached out for help in January, reporting losses of about $43.6 million, according to the federal agency's website.
One of the centre's goals is to encourage victims to report scammers to the Canadian Anti-Fraud Centre. Only five to 10 per cent of victims follow through with a report to law enforcement.
"Fraud continues to devastate lives in Ontario and across this country, and the number of frauds being reported is on the rise," said Det. Supt. Dominic Chong, the director of the OPP's financial crime services. "One of the best ways to combat fraudsters is to be armed with knowledge, information and awareness. I encourage everyone to learn the information and tips being made available to protect yourself, and to share these with your loved ones to help protect them."
---
The most common frauds reported by Canadians in 2022
Investment fraud – $308 million, $136 million in Ontario
Romance frauds – $59 million, $20 million in Ontario
Spear phishing – $58 million, $21.1 million in Ontario
Service scams – $20.5 million, $8.1 million in Ontario
Extortion frauds – $19 million, $4.8 million in Ontario
Source: Canadian Anti-Fraud Center