Perth County council agreed Thursday to provide $13,000 in seed funding to help North Perth lease the 116-acre Galbraith Conservation Area so it can revitalize the property and ensure it remains open for public use.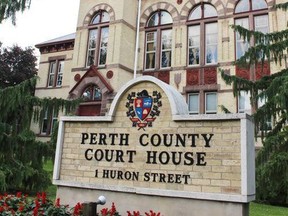 Perth County council has agreed to kick in $13,000 to a plan by North Perth council that to lease the unused Galbraith Conservation Area on the border between North Perth and Perth East and potentially reopen a shuttered summer camp.
Located on Perth Road 140 between Perth Line 78 and Perth Line 75 and owned by the Maitland Valley Conservation Authority, the roughly 47-hectare (116-acre) property was previously home to the Galbraith Optimist Camp for Kids from 1991 to 2018, when the camp terminated its lease due to increasing costs and a lack of volunteers. The conservation authority later announced its intention to sell the land, but it was first required by the province to contact public agencies to determine if there was any interest in acquiring the property before it went up for sale on the open market.
On Jan. 9, North Perth council directed municipal staff to reach out to other potential partners that might be interested in helping the municipality with a plan to lease the conservation area with the goal of revitalizing Galbraith's recreational facilities and developing a trail system for public use, establishing an outdoor educational program for children and youth and, ultimately, re-establishing a kids' summer camp on the property.
"As you can see in a letter from North Perth … (we want) to find out whether there are in fact other entities that would potentially have interest … in becoming part of the effort. … While it's not confirmed or a sure thing, I think there's a desire from North Perth to gauge the intent of potential sponsors and partners in this initiative," Perth County councilor and North Perth Mayor Todd Kasenberg told county council at its Feb. 16 meetings.
According to the letter, North Perth and its partners are exploring the option of entering into a lease agreement with the Maitland Valley Conservation Authority for the Galbraith Conservation Area property, which comes at a cost of $13,000 annually for property maintenance and upkeep.
With that concept in mind, North Perth staff have drafted a business plan for the lease of the conservation area, which it has shared with potential partners. The business case includes a four-phase operating plan that would see facility and trails maintenance and the development of outdoor and environmental educational programming begin this year. The development of passive recreation, such as hiking, biking and cross-country skiing, and community programming would begin in 2024 while the re-establishment of a summer camp at Galbraith would be penciled in for 2025.
"I was one of those Optimists that helped run the (Galbraith Optimist Camp for kids). … We realized that the number of kids applying (to attend camp) dropped, we had trouble getting people to be (camp counsellors) and then the busing got expensive, so that's why it stopped when it did," Coun. Jim Aitcheson said at the Feb. 16 county council meeting.
In its heyday, the camp welcomed approximately 100 children between the ages of five and 13 weekly with six one-week camp programs each summer. Transportation was provided at designated stops throughout Perth County and in some surrounding counties. The property includes a spring-fed pond for swimming and canoeing, a natural forest with hiking trails, an indoor pavilion for crafts and activities, a storytelling cabin, washrooms, change rooms, an outdoor pavilion and a kitchen.
"It has been noted that there's other camps in the county, one being in Perth East, and there are several others, so my concern would be that this initiative would be competing with other initiatives that are already in operation within the county," Coun . Dean Trentowsky said at Thursday's meeting before council voted to provide support.
The intent, North Perth CAO Kriss Snell said, is not to compete with other summer day camps.
"We offer our own summer day camps in North Perth. We are hoping to work with local municipalities to augment the day-camp experience, so Galbraith could be a place that existing day camps could use. As well, Galbraith was in operation for many years. Kids across Perth County and our neighboring counties attended the Galbraith camp," the administrator said.
"Right now, we have a significant shortage in day-camp spaces and childcare spaces across the province. … Families are waiting for childcare and there are still a number of gaps in the system, so we're always looking for opportunities to increase that."
Before county council agreed to support North Perth's efforts to revitalize the Galbraith Conservation Area with seed funding for $13,000 for the first year, county CAO Lori Wolfe clarified that the county's support would be a one-time deal unless council decides to provide additional or ongoing support for the conservation area in future years.
With the county's support and support from other local partners, North Perth council will decide at a future meeting whether to move ahead with leasing the Galbraith Conservation Area for future public use.