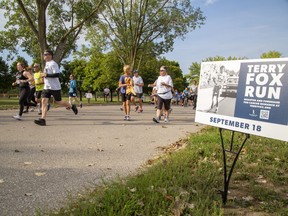 Participants turned out for in-person Terry Fox Runs on Sunday in Brantford and in Paris.
The Brantford run began and ended at the Steve Brown Sports Complex at Lions Park, while the Paris run began at Paris District High School.
"Today, in keeping with the annual Canadian tradition that began 42 years ago, hundreds of Terry Fox events will take place across the country to honor Terry Fox's legacy and to raise critical funds for cancer," Velika Kitchen-Janzen, chair of the Brantford Terry Fox Run committee told a group of about 70 participants.
"We are immensely grateful to our volunteers and supporters for their passion and dedication to carry on Terry's dream of a world without cancer."
The amount raised so far from this year's Brantford run is just over $9,500. And, while that's shy of the $20,000 goal, Kitchen-Janzen said every dollar counts.
"As a community, we've raised over $500,000 since the first run. Anything we can bring in is positive."
Five-year-old Jeffrey Kramer of Brantford rode in a running stroller pushed by his father, Jacob, for most of the five-kilometre route before hopping out to run the last stretch.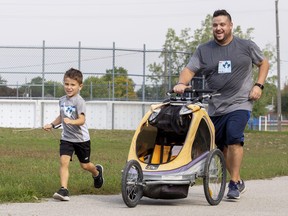 They were running in memory of an aunt who passed away two years ago due to cancer.
"I like to do this every year with him," Kramer said. "I've lost a lot of my family due to cancer so it's a big deal to us that we do this."
He said he was happy that the event returned to its in-person format after pandemic restrictions resulted in two years of virtual runs.
"The main part for me is to teach (my children) to be active," Kramer noted.
His wife, Victoria, said the event organizers, volunteers and music provide encouragement to participants.
"They've been running every morning," she said of her husband and son.
"The other day they both got up at 6 am I was shocked. (Jeffrey) got up, ran with (his father), then went to school."
Len and Kit Pizzey of Haliburton, Ont., took part for the 41st year in a Terry Fox run, missing only one while they were in Russia on vacation years ago. They have participated in runs in many Canadian locations, from small towns on the prairies to Newfoundland and in Marathon, Ont., where a monument to Fox is located.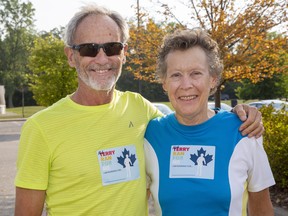 "We even organized a run ourselves while we were on a cycling tour in (the Spanish island of) Majorca," said Len, who was visiting his mother, who lives in Brantford. "It was with a group of French-Canadian folks and might have been the only time there was ever a Terry Fox Run in Majorca."
Having had a leg amputated due to osteogenic sarcoma, Terry Fox set out on his cross-Canada Marathon of Hope on April 12, 1980, but — after running 5,373 kilometers — was forced to stop on Sept. 1 when cancer returned in his lungs. He died June 28, 1981.
"It resonates with us," Pizzey said. "Especially when you know if he had that same kind of cancer (today) he almost certainly would have survived because of all the research that's been done, partly from the Terry Fox Run fundraising."
Donna Mason of Paris and Yvonne Gareau of Brantford walked together on Sunday morning.
"It's my No. 1 charity," said Mason, who has participated for 42 years. "I have lost my mom, sister, sister-in-law (to the disease), and I found out I have melanoma on my back. But it was contained and caught in time."
Gareau, who has missed only one Terry Fox Run, is being treated for carcinoid cancer.
"I go once a month for my treatment and it's always full of cancer patients," she observed.
"They've got to find a cure some day, hopefully."