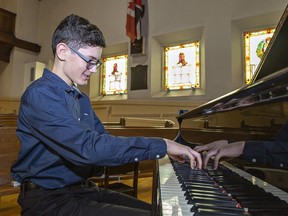 SIMCOE Hundreds of budding young musicians were in Simcoe this week for the Norfolk Musical Arts Festival.
Cole Shaddock, 15 of Caledonia traveled to First Baptist Church on Young Street to take part in the piano competition.
"I like learning different songs, and I find it fun to compete as well," said the pianist who is currently at the Grade 5 level. "I chose The Harvest Song by Robert Schumann at the beginning of January and have been practicing since."
Shaddock received a mark of 85 from the adjudicator, tying him for second place in his class.
Kelly Skrzypek of Brantford watched her son Ian, age 13, and daughter Lily, 11, perform their piano pieces as well.
Both children began studying piano at the age of seven and have competed in music festivals for several years.
"It gives them a goal to achieve," she said. "They like to practice and do well. It's motivating for them."
Ian is currently at the Grade 7 level and will pursue Grade 8 so he can earn high school credits.
"He is starting to pick up guitar now too and is liking that."
Skrzypek said her daughter has had to work hard to achieve Grade 3 piano due to a genetic condition that impacts her motor coordination.
"She has come way further than I ever thought she would in piano," said the children's mother. "It's been really good for her.
Linda Bonadeo-Boll, who founded the Norfolk Musical Arts Festival in 1986, competed in music festivals in London, St. Thomas, and Stratford as a child.
"I just grew up thinking that was normal," she said. "I moved here and there was nothing.
"I thought there was a need, so I collected a few music teachers in the area, and it took off."
Bonadeo-Boll said learning an instrument "is good for the brain", and performing by memory is also beneficial.
"Having to play in front of the audience, to be a bit nervous and get over that, to dress up and have a bow, all of that is something that isn't commonplace," said the festival's founder. "I think to build confidence in students – whether they continue with music or not – the outcome is to make them better people."
The festival also features an uncommon competition category: speech arts.
"We introduced an area where they could do poetry, create their own, the schools could do class recitation, French as a first or second language, and it really took off," Bonadeo-Boll explained. "Some kids maybe couldn't afford piano lessons, but they all have a voice."
The festival concluded Thursday with cup competitions.
Both the Rotary Cup for voice and speech arts, and the Norfolk Musical Arts Festival Instrumental Cup, come with a $1,000 prize.
On Tuesday, March 7, the Festival Highlights and Awards Ceremony will be held at the Old Windham United Church, 30 Glendale Crescent in Simcoe at 7 pm
To see the schedule of competitions visit namf.ca