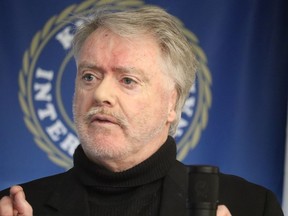 Sarnia Mayor Mike Bradley says he wants Canada's natural resources minister to visit the community to see why federal promised "Just Transition" legislation needs to benefit local workers in oil and natural gas-fed industries.
During his annual "State of the City" speech to the Kiwanis Club of Sarnia-Lambton Golden K Tuesday, Bradley spoke about his plans to invite Natural Resources Minister Jonathan Wilkinson to the community ahead of promised federal legislation to support workers and communities shifting from the oil and gas sectors to a greener low-carbon economy.
The Sarnia area is home to several refineries and chemical plants making fuels, plastic and other products from oil and natural gas that provide thousands of jobs in the border city region.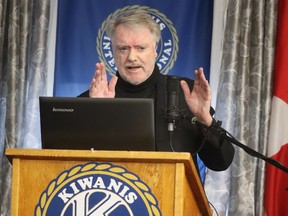 "There's a good way to transition and there's a bad way to transition," Bradley said.
Bradley said he spoke with the minister more than a year ago about the Line 5 Enbridge pipeline from Western Canada to Sarnia that state officials in Michigan have been attempting to shut down.
That conversation also included what the Sarnia area had been doing as part of the move to a low-carbon economy, the mayor added. Bradley said he invited the minister to visit at that time but, since this was during the "height of COVID," the trip didn't happen.
"I'm going to issue the invitation again to the minister. . . to come here to see and to understand what we are doing here," Bradley said Tuesday.
"What's going on in Alberta with green energy, clean tech, hydrogen hubs, is exactly what we're doing here, but we're not being part of the national narrative," Bradley said.
He noted a CBC story this week where the minister spoke about plans to introduce the legislation in 2023.
"What I read today, it was all about Alberta and the west," Bradley said. "What about the people at the other end of the pipelines?"
Several pipelines carrying oil and natural gas from Western Canada and elsewhere in North America cross the St. Clair River to the Sarnia area to feed local industries, as well as others in Eastern Canada.
He noted Sarnia is home to a government-funded agency, Bioindustrial Innovation Canada, and has been moving to take advantage of low-carbon developments, including promoting the community as a hydrogen energy hub in the province.
"We need to get the benefits of the transition too," Bradley said about the coming federal legislation, "and that's going to take a real thoughtful conversation."