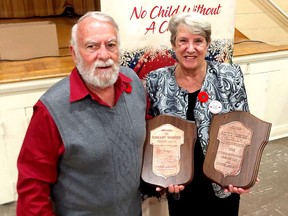 The Chatham Goodfellows annual Christmas campaign has served thousands of families over nearly seven decades, but it couldn't happen without dedicated volunteers and support from businesses.
The organization held its 68th annual dinner meeting Thursday night to recognize those that have made a difference in the Goodfellows living up to its motto of 'No Child Without a Christmas.'
Richard and Bonnie Regnier were named Mr. and Mrs. Goodfellow for 2022 in recognition of their more than 20 years of volunteer service.
"They heard about all the good this organization does for the community and felt that they should help in any way they could," said Goodfellows president Craig Williston.
The couple has been involved in all aspects of the annual campaign, including Bonnie running the kitchen during toy and food delivery days to ensure volunteers are well fed, he said.
"You haven't experienced volunteering with the Goodfellows until you've had a bowl of Bonnie's soup," Williston said.
He added, "You can always count on Richard to help with the heavy lifting, even though he knows he shouldn't be. You can't stop Richard from doing that."
Bonnie Regnier said longtime Goodfellow Scott Williston recruited her to help out in the kitchen "and it evolved into more and more and I just love it."
She said they keep coming back because they see the positive impact the campaign has on people.
Being named Mr. and Mrs. Goodfellow came as a surprise to the couple.
"I didn't know nothing about it," Richard Regnier laughed.
"It's a real good club to be with," he added.
"I'm just overwhelmed, it's just a real honour," Bonnie Regnier said.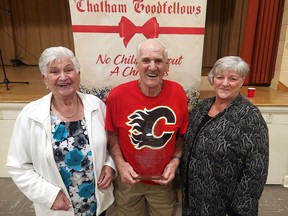 The Morlog family, which has three generations currently volunteering with the Goodfellows, received the Lifetime Achievement Award, for their more than 50-year involvement with the organization.
Williston said, collectively, the three generations of the Morlog family has volunteered well over 600 years with the Goodfellows.
"This family has always been willing to go the extra mile when it comes to doing the things that need to be done," he said.
Williston said the family takes part in Porchlight and Street Sales fundraising events, which have included overhauling the way donation receipts are prepared and issued. He added the extended family is involved in all aspects of the operation from packing and delivery of food and toys.
Jim Morlog said enjoys meeting people.
He added what keeps him coming back is "the friendships and helping the organization out."
Morlog's sister Gert McFadden said, "You know you're doing something good for the community."
Their sibling Cora VanBrunschot, began volunteering with Goodfellows over 50 year ago, joined by her late husband Michiel VanBrunschot.
She said they worked together packing and delivering toys and food to those in need.
"It's something to do," she laughed, when asked what keeps her involved.
Van Brunschot is honored the family has received the award.
"It's terrific," she said.
Terry Vogler Trucking received the President's Award.
Williston said the Thamesville-based company has been assisting the Goodfellows for the past eight years "and has quickly become one of our go-to companies when we need assistance."
He said during COVID-19 pandemic when the Goodfellows had to change the way it packed and stored its food donations, Vogler Trucking donated the use of two refrigerated trucks.
"Without these trucks, it would have been much more difficult process than we could have ever imagined," Williston.
This year's Goodfellows campaign has already started with applications by existing clients being accepted online until Dec. 2 at www.chathamgoodfellows.ca.
New clients can apply beginning Monday by calling 519-354-1146 between 9 am to 3 pm, during week days, until Dec. 2.