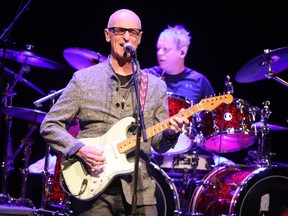 Canadian festival favorites Kim Mitchell and Sass Jordan will headline Brantford's Canada Day concert on July 1.
"As we prepare to celebrate Canada's 156th birthday, I am thrilled to invite residents and visitors alike to join us for a memorable Canada Day event," said Mayor Kevin Davis. "This year's festivities promise to offer something for everyone and demonstrate the lively community that makes Brantford truly exceptional."
The free all-day event held at Lions Park Steve Brown Sports Complex includes live music, family-friendly entertainment, food trucks, marketplace vendors, midway rides and a fireworks display at 10 p.m.
Everyone is welcome to attend the Brantford Citizenship Ceremony at 10 am at the Boys and Girls Club where residents will take an oath to officially become Canadian citizens.
"Brantford's Canada Day committee, with City of Brantford staff, have carefully planned an exciting lineup of entertainment and activities to mark the occasion and we're especially thrilled about the return of the Canadian Citizenship Ceremony," said Dave Carrol, committee chair. "The ceremony is the perfect start to the day."
Mitchell is a Canadian rock icon who has sold more than 1.5 million records in Canada, earned 17 Juno Award nominations and, in 2021, was induced into the Canadian Songwriters Hall of Fame.
An acclaimed singer-songwriter and guitarist, he is known for his classic hits, including Go For a Soda, Rock N Roll Duty, Patio Lanterns, I Am a Wild Party, Easy to Tame and All We Are.
Jordan is a pioneer of female-fronted rock, known for her powerful, gritty, blues-infused rock and crowd-pleasing performances.
She has received multiple music industry accolades, including the Juno and Billboard awards, and has sold more than a million records worldwide.
Musical entertainment on the main stage will start at noon with performances by the Frank DiFelice Band, with special guest David McKee. Also performing are Three Legged Horse, Backburner, Mystic Highway, and Jace Martin and the Pace. Jordan takes the stage at 6:30 pm, followed by Mitchell at 8:30.
In between the musical performances, Interleague Independent Pro Wrestling shows will be held at 1 pm, 3 pm and 5 pm
The Young Canadians Area opens at noon, with family activities, including Barry O' Kids Show, followed by Paw Patrol Chase and Deputy Chief Saunders at 2 pm Other performers are Team T&J and Blue's Clues Interactive Storytime, along with pony rides.
The KidZone Carnival and midway runs from 11 am to 11 pm Ride tickets and ride-all-day bracelets can be purchased on site and in advance. Bracelets are being sold for a special rate of $35 until June 30 at albionamusements.com
A full schedule of events is available at Brantford.ca/CanadaDay.
The Canada Day Green Team and City of Brantford is on a mission to entertain 75 per cent of the waste from this year's event. Attendees are asked to bring a reusable water bottle to the park. A Quench Buggy will be onsite offering free water refills.
Using the complimentary shuttle service to and from Lions Park is recommended. The free Brantford Lift program also will offer shuttle service with registration. Accessible seating is available at the front of the main stage. Single entry parking is available for $10 per vehicle in support of Sunrise Rotary Club of Brantford.
The city is looking for volunteers to assist with the Canada Day event, including those for set up and take down, parking attendants (age 18 and over), and cleanup. Volunteers will get a T-shirt. High school community hours will apply. Applications are available at Brantford.ca/CanadaDayVolunteer and will be accepted until June 22.