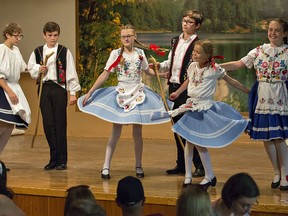 The International Villages Festival is returning after a three-year hiatus.
Pat Eyzenga, the 85-year-old indefatigable president of the festival's organizing committee, said she was determined to bring back the event this year.
"I told everyone I know, everyone who has been involved in it over the years, that we just had to do something this year," Eyzenga said. "Even if we only had three of our villages, we had to do something.
"I was really worried about what would happen to the festival if we didn't do something this year."
The festival was canceled for the past three years due to COVID-19 pandemic public health restrictions. There was some talk about bringing it back in 2022. But even though public health restrictions had been lifted, Eyzenga said many people were still uncomfortable about gathering in large crowds.
The villages began in 1974 and feature cultural entertainment including music, cuisine as well as cultural displays such as dancing, regalia and history.
Thousands of people visited community halls during previous festivals, Eyzenga said.
But this year, Eyzenga said organizers decided it was time to take the plunge and bring back the festival. The festival will feature 10 villages and will run from July 5 to July 8.
Participating villages include: Chinese, Dunsdon Legion, 9 Tollgate Rd.; Hungarian Village, Hungarian Hall, 104 Albion St.; India Village, Brantford Convention Center, 100 Market St. S.; Italian Village, Rossini Lodge, 104 Gray St.; Muslim Village, Muslim Association of Brantford, 192 Greenwich St.; New York, New York, Belleview Community Hall, 55 Tom St.; Philippine Village, Sydenham United Church, 120 Sydenham St.; Polish Polonaise, Polish Hall, 154 Pearl St.; Polish Warszawa, Polish Alliance Hall, 126 Albion St., and Ukrainian Village, Harmony United Church, 268 Marlborough St.
The festival halls will be open Wednesday and Thursday from 5 pm to 10:30 pm and Friday and Saturday from 5 pm to 1 am
Festival passports will be available June 19 at the Brantford Tourism Center located at the Gretzky Centre, 254 North Park St. and the Sanderson Center at a cost of $10. The passports provide access to all the villages and will also be available at all of the villages starting June 5.
Plans call for the village ambassadors to gather at the Polish Hall at 154 Pearl St. on June 11 for an introduction and luncheon from 1 pm to 4 pm
Eyzenga is thrilled that the villages is making a return after three years.
But the event requires a lot of volunteers – cooks and people who are willing to help out with the operating of the various halls.
"It's hard to get the volunteers that we need," Eyzenga said. "We're fortunate to be able to offer 10 halls this year but we always need volunteers.
"It's an important event that brings people together."
Anyone interested in becoming a volunteer can contact festival organizers at 519-752-6222 or by e-mail at [email protected] or Eyzenga at 519-753-9217.
twitter.com/EXPVBall