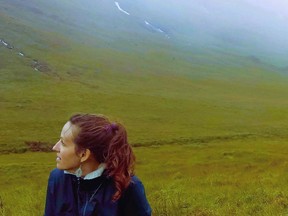 A dig into her family history has led an Ontario author to write a novel about the Baldoon Settlement and its inhabitants' relations with Indigenous people on Walpole Island in the early 19th century.
Cameron Alam's Anangokaa, which is slated for release April 3, is about a 14-year-old named Flora MacCallum who comes to Upper Canada in 1804 as part of Lord Selkirk's plan to resettle Scottish highlanders. Flora forms a friendship with the son of a Chippewa chief and takes a new view of the land and her own spirit.
Alam, who grew up in Buffalo, NY, and now lives in eastern Ontario, said Canadian history wasn't part of her education. Even after moving across the border, places like the Baldoon Settlement and Bkejwanong Territory (Walpole Island First Nation), as well as figures like Lord Selkirk, weren't on her radar, she said.
About six years ago, she started looking into her family line and found out her ancestors emigrated from the Isle of Mull in Tobermory, Scotland, in 1804 because of Lord Selkirk's experiment.
When her husband, who is in the military, was posted to Royal Air Force Wyton in Cambridgeshire, UK, she spent a week on the Isle of Mull.
"That's where I think the seeds of the story were really planted for me, was walking around the isle, meeting with people, going to the archives in Tobermory," Alam said.
"When we came back to Canada, I just knew that I wanted to write a story about one of my ancestors who had come over, who is the protagonist of my novel, Flora MacCallum."
Alam said there are few details about Flora in the historical record. For many girls and women of time, she said, all that is known are birthdates, marriage dates, children and death dates.
However, Flora's older brother was Hugh MacCallum, the first postmaster of Wallaceburg and the person who chose Wallaceburg's name. Alam said she had enough information to imagine what life was like for the family – they lost both parents and a sibling within the first few weeks of reaching Baldoon.
The book steps "firmly into the world of fiction" once there is a connection between Baldoon and Walpole Island, Alam said.
"There was really this blank spot when it came to the settlers of Baldoon and their relationship with the Ojibwe on Walpole," she said.
Alam said she looked past some of the historical records written from the settler perspective when representing the Indigenous characters in the book instead relying on Indigenous sources and academic papers.
The name of the book means "many stars" in Ojibwe and is the name given to Flora midway through the book.
Alam said she is currently working on her second novel, which will continue Flora's story into the War of 1812 era. She said Flora left a small paper trail in this time – her farm was hit three times by raids during the war.
More information about Anangokaais available at www.cameronalam.com.