Holding a plastic jug cut in half, filled with limestone mortar, Dr. Bruce Warwick does a key-slot repair on a marble gravestone dating back to the 1870s.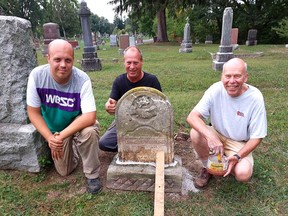 Holding a plastic jug cut in half that was filled with limestone mortar, Dr. Bruce Warwick completed a key-slot repair on a marble gravestone dating back to the 1870s.
He filled a rectangular-shaped slot at the base of the gravestone with the mortar before placing the stone inside and then sealed it with more limestone mortar.
"This is the way the Romans did it," said Warwick, who has been volunteering to fix headstones in cemeteries across Chatham-Kent for more than 30 years. "Surprisingly they used limestone mortar. … It certainly stands up, obviously."
Warwick and other volunteers with the Chatham-Kent Cemetery Restoration Project finished repairing and digging up headstones Thursday at the St. Anthony's section of Maple Leaf Cemetery.
He said the number of stones worked on each year by the volunteers varies, but added it's "never less than 300."
"This has been a really strong week for Maple Leaf Cemetery," Warwick said.
Using metal probes to poke in the ground, it's not uncommon to find toppled gravestones that have been reclaimed by the earth decades ago, Warwick said.
The volunteers will work on the small headstones but, when it comes to dealing with the large, heavy monuments, the group has an annual budget of $10,000 from municipal council to employ Memorial Restorations of Sarnia, which brings in equipment to do the job safely.
"We take Dr. Bruce's lead and he identifies monument he feels are unsafe," Memorial Restorations owner Tom Klaasen said. "We take them down and we put new foundations under them, level them off and put on new sealer and make sure they are safe for another 50 years."
Noting there are 25,000 graves in Maple Leaf Cemetery alone, Warwick said the team of volunteers does restoration work at the six major municipal cemeteries across Chatham-Kent, as well as at private cemeteries that have come under the municipality's domain.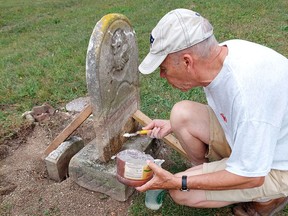 The cemetery restoration project, he said, has been going for about 15 years. Volunteers stopped counting when they reached 5,000 repairs about four or five years ago.
When first starting the project, Warwick said he wasn't sure if they were making any progress.
"But, when you think about it now, 15 years later, we've done a lot of stones."
He said details about the volunteer group's work can be found online at www.ckcemeteries.ca.
Warwick began repairing gravestones more than three decades ago after visiting an old cemetery and seeing several broken stones.
"I thought, 'What a tragedy this is, somebody should be fixing this.'"
He spoke with the municipality and learned no one was doing these repairs, so he took some courses to learn how to do the repairs properly.
"You've got to have a passion for it," he said.
He added the weather is often hot and the headstones are heavy.
"We've had easily 50 to 60 people come and go over the last decade and a lot of them will say, 'This is hard,'" he said with a laugh.
Klaasen said he feels fortunate to have a business where he can make a living doing something he loves.
Warwick said the restoration group is also fortunate to work with Collin Mardling, Chatham-Kent's supervisor of cemeteries, who supports the work the volunteer group does.
"If you can get co-operation between the municipality and the private sector, this is what you get out of it," he said.
Mardling said the work done by the volunteers in conjunction with Memorial Restorations is invaluable.
"They provide us with a service that is literally unavailable, and we're just so grateful for the talent of Dr. Warwick and his crew, and we're thankful for the time that they put in for that work," he said.