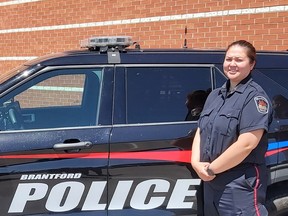 Criminal charges against a Brantford Police cadet and another woman have been withdrawn in favor of a peace bond.
Krissa Staats, 33, of Six Nations, was hired by the service to be a sworn officer in the spring of 2021 but had not completed the requirements to become an officer when she was suspended 19 months later.
Staats faced charges of unlawful entry, criminal harassment and three charges of assault, with each alleged incident taking place while she was employed by Brantford Police.
After being charged in October, Staats was placed on paid suspension.
Last month, the court heard allegations that Staats and another woman got into an argument in October 2022 and it escalated into physical fights on three occasions.
The other woman faced similar charges of assaults and threatening.
Both women, through lawyers, declined to admit civil or criminal liability before a Justice of the Peace, but agreed to enter a year-long peace bond with specific conditions to keep the peace in regards to each other.
In return, criminal charges against each were withdrawn by the Crown prosecutor, who was brought in from the Niagara region to avoid any conflict of interest.
Chief Rob Davis said he has the ability to investigate any reports of misconduct involving BPS employees but noted that, since Staats was not yet a sworn officer, his situation doesn't command the same transparency when it comes to discipline.
"The service does not provide information or comments relating to investigations or internal discipline for civilian members," Davis said in an email.
A police spokesperson previously said all officers, cadets, special constables, auxiliary members and civilian employees face different legislation that outlines their expected behaviour, with officers held to a higher standard than typical citizens.
As previously reported by The Expositor, although Staats is called a cadet, a police insider said the service has no cadet program or other cadets, except those in the Police College in Aylmer.
At the 12-week college, cadets must meet certain standards, including rigorous physical fitness tests, before being certified and then sworn in immediately with the service which hired them.
Previously, Jeremy Morton, president of the Brantford Police Association, said Staats was hired "in anticipation of her becoming a sworn police officer" but added that while the BPS has a cadet category, it is the term for those hired before going to the police college.
@EXPSGamble