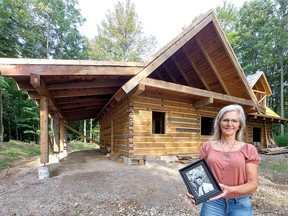 Dalles Bergsma was a farmer, volunteer firefighter, husband, son and brother.
When the Florence-area man died of suicide on Nov. 23, 2020, at age 27, the tragedy rocked his family, friends and community.
"Everybody who knew him was absolutely blind-sided when he took his own life," said his mother, Diane Bergsma. "We knew he was stressed, but so is every young farmer."
After her son's death, Bergsma said her family learned about the high statistics for anxiety and stress for both farmers and first responders and how many suffer from those challenges.
"We couldn't know those statistics and not try and do what we can to change it," she said.
The Bergsma family sold a farm and are building a 1,400-square-foot, three-bedroom cabin in a 50-acre woodlot, to be called the Three Oaks Respite Cabin. It will offer free stays for farmers and first responders trying to cope with the stress and anxieties of their jobs.
Confidential registration to stay at the cabin is done online at www.threeoakscabin.com. An open house is scheduled Oct 21 with the cabin expected to be ready to accept guests before the end of the year.
Bergsma said the family is teaming up with the National Farmer Mental Health Alliance to provide self-directed programming while visitors are at the cabin. Guests will also receive a follow-up call from a therapist from the alliance to see if they are in a better place, she said.
The call will also include an offer for more free therapy, if needed.
Bergsma said the aim of having a therapist reach out is to make it easier for someone to accept the help, rather than putting the onus on them to make the call.
"It just takes down one more barrier."
Another goal of the project is to get people talking about mental health.
"Regret is a hard task master," Bergsma said of the light that hindsight can shed on signs missed from past conversations while everyone is busy living life.
She added the hope is more that people will have the awareness to "ask, maybe, better questions to gently pry a little deeper than, 'How are you doing?' but ask, 'How are you really doing?'"
The Bergsma family has received many generous donations of services and products during the construction of the Three Oaks Respite Cabin, but they want to ensure the funds are there to provide free therapy for those who visit the cabin.
She said her family is holding a fundraising event, the Shifting Gears Tractor Parade, on Aug. 12. It will begin at 887 Shetland Rd. Florenceand end at the Florence Community Centre, at 6213 Mill St.
Bergsma said they would love to see more participants join in the event that begins at 2 pm To register go to the website.
"We would love to have spectators along the way," she said.
As much as it's a fundraiser, Bergsma said the event is also "intended to showcase farmers and first responders and the contributions they make to our communities and (to) thank them."
The success of the project will be "bittersweet, because of the loss of our son and brother," Bergsma said.
She added her family firm believes God wants them "to be there for other people and to use our resources to help other people.
"In our loss, that will be our healing when helping other people."
The Three Oaks Respite Cabin project is not about Dalles, but does reflect who he was and how he lived his life, Bergsma said.
"We don't need a reminder that Dalles was here; he's always in our hearts," she said.
Bergsma said her son "was a very, very generous person, who was always about the other person, so it does suit well with his legacy."
IF YOU NEED HELP
Selected mental health resource lines in the region:
– Canadian Mental Health Association of Lambton-Kent, 24/7 crisis lines: Chatham-Kent, 1-866-229-7447; Lambton County, 519-336-3445 or 1-800-307-4319.
– Talk Suicide: Available anytime, 1-833-456-4566 or text between 4 pm and midnight.
– The Farmer Wellness Initiative: Round-the-clock support at 1-866-267-6255.