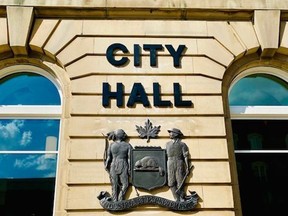 Representatives from local sports organizations say increasing the size of the gymnasium at the Southwest Community Center will allow them to host provincial tournaments in Brantford.
City councilors, at a meeting on Tuesday, agreed to add about 5,000-square-feet to the original building plan, making the gym size about 26,000-square-feet.
The larger space will meet the requirements for hosting Ontario-sanctioned tournaments for sports, including volleyball and basketball.
The bigger gym will add about $4 million to the city's cost for the recreation centre, originally estimated at $15.8 million.
At a meeting last October, city council voted to proceed with detailed design of the second phase of the Southwest Community Center and Park, which will include a community center with a library and gym and multi-purpose rooms for shared use with a new Grand Erie District School Board elementary school.
The project, to be completed in three phases, has an estimated total cost of $50 million.
Alan Lovett, a volunteer coach with Brantford CYO Basketball, told councilors gym availability for games has been an issue.
"The number of schools that have the specifications we need to host tournaments are limited," said Lovett.
He said the facilities don't meet Ontario Basketball Association standards including those for court size, ceiling height, out-of-bounds areas and court markings.
Richard Beeham, president of the Brant Youth Volleyball Club, said they have the same issue.
"As far as hosting tournaments, it's basically been a 25-year road trip," he said. "This is a wonderful opportunity to have a facility that would come up to provincial standards and allow our athletes to play in front of family and friends instead of having to travel out of town for the whole season."
Gord Gavrilovic, the city's manager of facilities capital development, said the updated plans are for two full double gyms, which can be divided into four. In addition to volleyball and basketball, the space will be suitable for pickleball, badminton and other indoor sports, said Gavrilovic.
Design of the community center should be completed in the summer, he said, with a construction start by the end of the year.
The elementary school has a tentative opening of September 2025. In a letter to the city, Rafal Wyszynski, superintendent of business at the Grand Erie school board, said the new school will relieve pressure on neighboring schools, including Edith Monture, Walter Gretzky and Agnes G. Hodge, which are over capacity and using a total of 24 laptops.
The Southwest Community Center project dates back more than a decade when the city looked at development opportunities for a 36-acre property on the north side of Shellard Lane in the southwest area of ​​Brantford.
Other features of the project include lit ball diamonds, a playground, multiple trails, an artificial turf sports field, a splash pad, a cricket pitch and a multi-sport court.