Demolition derby draws a crowd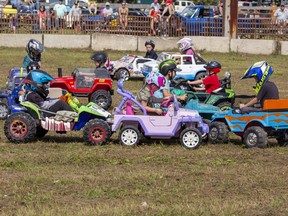 WALSH Children dressed up, and some rode bicycles, in a parade that began at Walsh Public School on Saturday morning.
The short parade ended at the fairgrounds on Turkey Point Road, to officially open the 163rd annual Donnybrook Fair.
The name comes from an early settler to Walsh — a small community 14 kilometers southwest of Simcoe — who said the fair reminded him of an annual horse fair back home in Donnybrook, Dublin.
"We focus mostly on the younger kids, and we like the atmosphere," said Lynda Matthews, secretary-treasurer of the Charlotteville Agricultural Society and the fair board. "Everybody's just starting to live again."
She said about 2,200 people attended the last fair in 2019. By 2:30 pm on Saturday, 703 people already had streamed through the front gate.
Matthews said the fair board is looking at going back to a three-day event with local school children taking the day off to attend.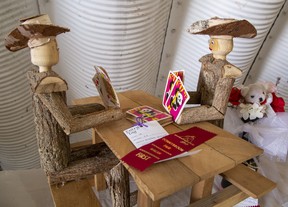 She said the arts, crafts, and vegetable competitions are always popular aspects of the fair, along with the demolition derby.
More than a dozen trophies – all about a meter in height – lined a table in the fair office to be presented to derby participants in various vehicle classes.
Matthews noted that the prize money is comparable to other fairs and is provided by local sponsors.
"I usually go to the Norfolk County Fair (in Simcoe)," said 27-year-old Brooke Martin of Walsh. "The derby here is way better, I think, because you get front row seats and you're so much closer to the action."
Martin and her partner, Curtis Pineo, brought their four-year-old niece, Lucy. to the fair on Saturday. The youngster seemed to enjoy looking at artwork made by area school children, exploring bouncy castles, and visiting the petting zoo.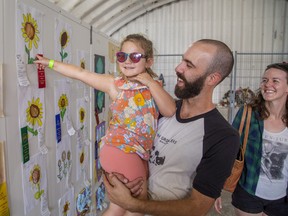 Martin said she served on the fair board "for a little bit" following in the footsteps of her parents and grandparents.
"My parents always had a vegetable garden so me and my two siblings always entered our vegetables," Martin reflected. "Most of the people that come here are from this area, so you run into a lot more people that you know and haven't seen for a while. It's like a reunion."
Having grown up in Simcoe, 27-year-old Jesse Gilchrist moved to Walsh one year ago with his fiancée and two sons.
"It's a lot smaller than the Norfolk County Fair but they put on a good show for everybody. I really like it here," he said. "I like how they do the kids smash-up derby. That's really cute watching the kids in their Power Wheels banging around."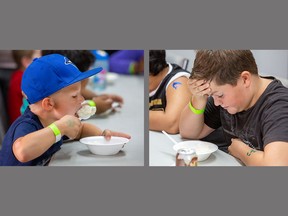 Gilchrist, whose five-year-old son, Jayce, competed in the ice-cream eating contest, held a sixth-place ribbon and $1 in prize money the boy received for his effort.
"I like that they always hand something out at small town (events)," he said. "They always recognize everybody that has participated."