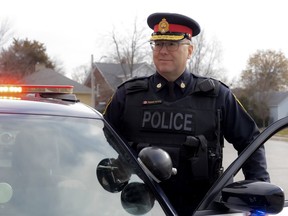 Changes in 2019 to Canada's bail system, designed to alleviate pressure on the courts and more align with the principle of innocent until proven guilty, have shifted more of a burden to police forces, leaving officers frustrated dealing with repeat offenders.
So says Sarnia's police chief Derek Davis.
The system built to ensure public safety and attendance in court became more restraint-focused with the introduction of Bill C-75 about three years ago, the chief said.
More people facing charges are now being released with or without conditions, depending on the alleged crime and circumstances, he said.
"Every case is different," he said. "There's always little nuances."
And while the number of people waiting months or longer in jail cells before their trials has been reduced — it was in the realm of 50-60 per cent in the years before 2019 — a problem since has been offenders repeatedly violating bail conditions, getting caught in a "catch-and-release" cycle, Davis said.
Take someone who's missed court, he said.
"What happens now more often than not is we don't proceed with charges at all," he said.
Or if there is a warrant for someone's arrest for missing their court date, "we arrest you, and immediately release you," he said.
"And if you don't attend that court date, rinse-repeat."
That "catch-and-release" cycle has prompted the service, among others, to ask recently for legislators and members of the public to take a closer look at the rules as written.
"As police, we don't want to get into the politics," Davis said. "It's up to the legislators that pass the law … (but) clearly what we're doing right now isn't working," he said.
As of Dec. 30, police in Sarnia had been in contact with 230 individuals 20 or more times each in 2022, he said.
One, facing firearms prohibitions; assault, mischief and break-and-enter charges had police in touch 116 times in a one-year period. That includes well-being checks, warrants, arrests, just being spoken to, unwanted person calls, and being the subject of complaints, Davis said.
"These individuals also consume vast amounts of police resources, reducing our ability to do proactive work, conduct more complex investigations, and/or otherwise use our resources to better meet the needs of the community," he said in an email.
Police will always respect the decisions of the court and work within laws as provided by legislators, Davis stressed.
The other simultaneously-needed approach to addressing the problem is targeting the roots of criminal activity more generally, he said.
Nearly three years after the onset of the COVID-19 pandemic, homelessness, substance dependence, and mental health concerns have become a bigger issue in just about every community, he said.
"There was just an article … about 270 homeless individuals in Lambton County," he noted.
Mostly, that's in Sarnia, he said.
Expanding police partnerships with community service providers, boosting a mental health intervention program that pairs police with mental health nurses, and adding auxiliary officers are some of the proposed programs in Sarnia's pending police budget for 2023 aimed at addressing those underlying issues, he said.
Sarnia city council considers those proposals, costed at about $750,000, during city budget deliberations Jan. 10.
"You have to look at these issues as separate but related," Davis said.
"When someone commits a crime, we need to deal with the crime. When someone is homeless, we need to deal with the homelessness — just as an example," he said.
"But being homeless doesn't exempt you from being responsible for your crimes … it's not an either-or.".
Empowering agencies through partnerships better equipped to deal with those root causes in theory frees up officers to focus more on crime, he said.
Should the programs gain approval, police will listen to feedback after implementation and adjust as needed, he said.
Also, "I think it would be very beneficial if consideration could be made to have either more resources or programs available on the justice system side to deal with some of those (underlying issues), as well as the crime," Davis said.
"Because they're often interrelated."
Canada's bail system has come under renewed scrutiny in the wake of the death of Ontario Provincial Police Const. Grzegorz Pierzchala Dec. 27, after the 28-year-old was shot while investigating a vehicle in a ditch near Hagersville, Ont.
OPP Commissioner Thomas Carrique has said he's "outraged" at the preventable deathgiven a suspect charged with first-degree murder — Randall McKenzie, 25 — was on bail at the time for several charges, including assaulting a police officer and possessing a handgun.
Brandi Crystal Lyn Stewart-Sperry, 30, is also charged with first-degree murder.
"I know that there is a lot of interest in ensuring that, to see that changes are made, where possible, so that people charged with violent offenses that are firearms-related are not in that position moving forward," Carrique said during a recent news conference.
If offenders can't abide by the conditions they're released on, how can they be released, asked Davis.
"That's essentially what is the frustration with the catch and release," he said.
News of Pierzchala's death has had a "deep emotional impact" in Sarnia's service too, he said.
"This unnecessary and preventable tragedy is at top of mind for every police officer in this province, if not the country," he said in an email.
"This call was no different than calls every officer has attended countless times."