Annual fundraiser helps support operations at DASO's women's shelter and Ingamo Homes' transitional housing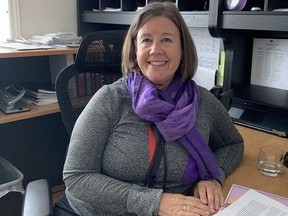 Officials with Domestic Abuse Services Oxford joined Oxford County representatives earlier this month to raise a purple flag sharing the words: "End Gender-Based Violence."
Article content
The Nov. 1 ceremony helped officially kick off the Wrapped in Courage fundraiser that returns every November to mark Woman Abuse Prevention Month.
Article content
The campaign offers one-of-a-kind fair-trade purple scarves hand made by women. The proceeds from the sale of the scarves will help fund both Domestic Abuse Services Oxford (DASO) and Ingamo Family Homes support individuals, many of whom are women or 2SLGBTQIA+, seeking refuge from intimate partner violence, domestic abuse and human trafficking, said Diane Harris , the executive director of both organizations.
"DASO is the first stage, a shelter and crisis center, to which women call or where they come for safety," Harris said.
After this initial period, Ingamo homes often makes a profound impact.
Article content
"We refer to Ingamo Homes as second-stage transitional housing and support services," Harris said about the 21 townhouse units where victims can live with their families.
Aside from providing transportation, shelter, food, and family court support, these facilities also offer counseling and therapeutic/educational workshops, Harris added.
Gender-based violence against women on the rise
According to a 2021 report published by Statistics Canada, 44 percent of women in Canada reported having experienced psychological, physical or sexual violence by an intimate partner in their lifetime.
The Ontario Association of Interval & Transition Houses, "a provincial association that represents over 80 Violence Against Women (VAW) shelters, transitional housing and VAW community-based organizations," keeps a count of femicide victims across Ontario. Its most recent numbers show that, to date, the number of femicide victims this year has already surpassed the numbers reported in 2022: 55 femicide victims in the past 48 weeks.
Article content
This data represents a femicide per week and includes reported femicide in London and surrounding areas. In 2022, Harris reported receiving "2,800 calls to DASO's 24-7 crisis line. Seven calls for help every day."
Decrease in donations at DASO and Ingamo 'really frightening'
Through the ongoing Wrapped in Courage campaign, Harris hopes to meet the organizations' annual fundraising goal of $200,000.
"Right now, our donations are down, which really scares us," said Harris, noting the decrease in donations is likely due to the rise in food prices and the housing crisis affecting Oxford County.
"The sad part about the housing crisis is that there are no affordable, safe places for women to seek safety," said Harris, emphasizing this may leave some with no choice but to stay in an unsafe situation for themselves and their children.
Local businesses to Woodstock and Ingersoll, including Whisk & Roll Bakery, Betty's Marketplace, Hometown Style, The Mill – Woodstock and Roberts & Co women apparel, will have purple scarves available for purchase in support of the Wrapped in Courage campaign.
People can also donate online through daso.caand keep up to date on social media by visiting facebook.com/DomesticAbuseServicesOxford.