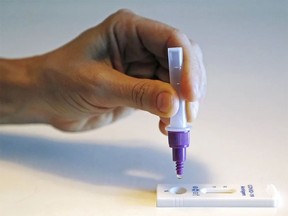 The number of local COVID-19 patients in hospital has jumped over the past week.
On Tuesday, the Brant Community Healthcare System reported 17 people with COVID-19 in Brantford General Hospital and the Willett in Paris, with two in critical care. A week ago, six COVID patients were in hospital, with none in intensive care.
The number of new cases over the past seven days is up slightly from the previous week. The Brant County Health Unit on Tuesday reported 80 new COVID-19 cases, up from 75 new cases for the previous week.
There have now been 11,319 confirmed COVID cases since the start of the pandemic. Of all the cases, 11,134 have been resolved.
Active cases have increased to 100 this week from 70 last week.
There have been 85 local COVID deaths reported since the start of the pandemic in March 2020.
As for vaccinations, there have been 348,497 total doses of the vaccine administered at vaccination clinics in Brantford-Brant. In Brantford-Brant, 79.82 per cent of residents, aged five and older, have received one dose of the vaccine, 77.06 per cent have received two doses, 45.10 per cent have received three doses and 13.85 per cent have received four doses.
Walk-in vaccination clinics will be held this week in Brantford at 195 Henry St. on Wednesday, 9:30 am to 3:30 pm, and at Lynden Park Mall (near Entrance 4) Thursday and Friday, 11:30 am to 5 :30 pm, and Saturday, 9:30 am to 3:30 pm
Visit www.bchu.org/covid19vaccine/ for more information about the local vaccine rollout, including fourth-dose eligibility, and covid-19.ontario.ca/ for more information on the rollout in Ontario, including booking third-dose appointments.
The following are local outbreaks at long-term care facilities, retirement homes and congregate living setting:
AbleLiving (Paris), Sept. 16, three residents
St. Joseph's Lifecare, Sept. 5, seven residents
Salvation Army Brantford (Booth Centre), Sept. 6, 10 residents
Brantford General Hospital (B6 unit), Sept. 13, 10 patients
As of Sept. 14, there were 27 active cases on Six Nations of the Grand River, up from nine reported a week ago. No one from Six Nations is currently hospitalized with the virus.
Since the start of the pandemic, there have been 1,679 confirmed COVID cases on Six Nations.
Exact numbers are not available but 55 per cent of the population has received a dose of the vaccination, with 51 per cent competing in their vaccination series.
There have been 24 COVID-19 deaths on Six Nations since the start of the pandemic.