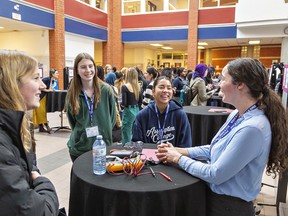 Assumption College hosted a conference this week aimed at inspiring young women to pursue careers in science, technology, engineering and math.
About 250 female high school and Grade 8 students from Brant Haldimand Norfolk Catholic and Grand Erie district school boards attended Monday's Women in STEM Conference. They heard from a panel of four STEM professionals: Sarah Sun, director of data science at Scotiabank; Elena Miroshnichenko, an aerospace engineer at Collins Aerospace; Jennifer Green, a millwright and director of competitions for Skills Ontario; and Dr. Maura Marcucci, an associate professor at McMaster University and attending physician in general internal medicine and perioperative medicine at Hamilton Health Sciences.
"I'm your resident math nerd," said Sun. "Now I wear it as a badge of pride."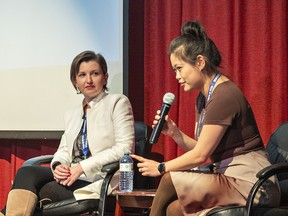 Sun said she's on a team that specializes in decision models for education, vehicle purchases, real estate and small business portfolios.
"I've had some incredible champions in my life," she said. "It's incredibly important to be surrounded by people who recognize your abilities and want to support you."
Sun said that, while in the bachelor of mathematics program at the University of Waterloo, she didn't know where her studies would lead.
"My industry didn't exist when I was in university."
She encouraged students to be open, courageous and curious.
Miroshnichenko told the students that math and physics were her favorite subjects.
"I put them together and figured engineering was the direction to head."
Specializing in aircraft landing systems, she said she is responsible for the structural integrity of aircraft landing gear components.
"My job is to make sure there are no catastrophes when landing — to make sure people are safe."
Miroshnichenko said women understood only 10 per cent of her graduating class at former Ryerson University, now Toronto Metropolitan University.
She acknowledged that she works in a male-dominated environment.
"I did have to prove, sometimes more than my male counterparts, that I'm capable."
She encouraged students to learn from their mistakes, and not to be afraid to fail or change directions.
"You may change careers and love it more," she observed. "What you learned before is not wasted."
Following the panel discussion, students took part in a speed mentoring session that offered six-minute visits with 28 women from different STEM fields.
Assumption graduate Lyssa Kelly, a controls designer in the HVAC industry, was one of the mentors.
"Most of the students are asking how you got to where you are and want to know what they should be doing right now, and what's next, to get to a career," Kelly explained.
"They're also asking for advice on what kind of discrimination I faced and how I dealt with it, so they can get a head start. If you know it's coming to you, it's easier to handle."
Janelle Orleans-Lindsay, a Grade 12 Assumption student, said she aspires to work in health sciences, perhaps in obstetrics and gynecology.
She said getting the chance to talk to STEM professionals was beneficial.
"You can only get so much information from teachers about careers they don't have," she said.
"It's cool to see a bunch of people who are working in the fields you want to work in, and (hear how) they've overcome the barriers that women have to face to enter STEM careers."
The conference was organized by a group of Assumption teachers.