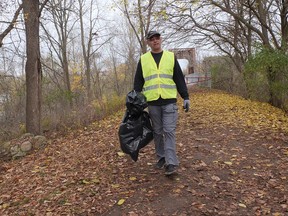 Long Point Biosphere Reserve has been spearheading cleanup projects in Norfolk County.
On Saturday more than a dozen volunteers gathered in Waterford for the second Cleaning Up Norfolk event of the year starting near the silos on the west end of Nichol Street.
"The whole point of our cleanup is to get together as a community and leave the space better than when we showed up," said Amelie Chanda, program development, Long Point Biosphere Reserve. Chanda and Carole Aeschelmann, communications and events specialist for the biosphere reserve, led Saturday's litter cleanup.
A cleaner environment is better for the animals, birds and people living in the area, said Chanda.
"It's all those little gestures that really add up to a sustainable community that thrives, that's healthy, that's happy – and that starts with us doing the work today," she said. "We're going to try to really clean up the space we're focusing on today, so you need detective eyes sometimes to really scope out (the litter), and we're going to try to pick up as much as possible – and celebrate leaving this place cleaner than it was."
Included in the cleanup area was the Waterford Heritage Trail system, and neighboring streets.
"We are hoping to do more events in different communities in 2023," said Chanda, noting the first Cleaning Up Norfolk event of the year was held in Simcoe on Oct. 15.
"We're going to take a little bit of a (winter) break because it's going to get cold and it's a little harder to find garbage when there's likely snow on the ground. But we would love to see you again in 2023."
Saturday's cleanup sponsors included Simcoe & District Chamber of Commerce, Norfolk County, and Ritzy's Bakery and Deli.