City hall has backed down in a controversial bylaw dispute that threatened a church and charity's efforts to feed and help homeless people.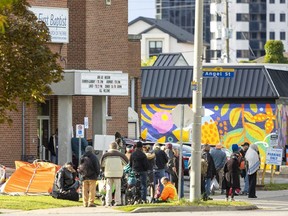 City hall has backed down in a controversial bylaw dispute that threatened a church and charity's efforts to feed and help homeless people.
Ark Aid Street Mission will continue to serve daily meals and provide drop-in spaces and laundry service at First Baptist Church on the Park, executive director Sarah Campbell said Thursday.
"We're obviously very, very pleased, and it also bodes well for what we're working toward for winter, and the use of church spaces as refuge for community members trying to escape the elements this winter."
But the resolution of the bylaw dispute comes amid continuing concerns from businesses and residents about large numbers of homeless people gathering on Richmond Street and in Victoria Park, and the presence of those preying on the most vulnerable.
"We can't continue to put things into our downtown core and then wonder why we're having the issues we're having," outgoing Ward 13 Coun. John Fyfe-Millar said Thursday.
"This is a city-wide issue, a city-wide challenge, and we need to come up with a city-wide solution. Part of that is infringing on other communities to (provide) full-time and daytime housing for people who are experiencing homelessness."
That's should be a key principle of the city and community agencies' plan for helping homeless people during the winter, Fyfe-Millar said.
"I'm not in any way saying part of that winter response doesn't have to come in the core of the city, but I'm saying all of it doesn't have to be in the core of our city."
A coalition of community groups and city hall is still working on the winter response plan.
A relieved pastor Al Roberts of First Baptist Church said he agrees the entire city has to help homeless people and solve homelessness.
"As much as this was a bit of a disruption, I think, in the big picture, it was a good thing. It really helped people to think about what we're doing and how we, none of us, can do it alone. We need each other," he said, "In the end, everybody's going to be so blessed by it, even the business owners."
Ark Aid has been offering meals and showers, drop-in space and laundry services at the Richmond Street church since the spring. The move is a temporary one while Ark Aid's Dundas Street location is being renovated.
But in September, city officials notified First Baptist the Ark Aid programs were an illegal use of the property under city zoning bylaws.
The letter from city hall to the church said the zoning for the area "does not permit assembly hall/Ark Aid at this location."
"Ark Aid is leasing the space and providing the services as a separate entity. They are not operating as a place of worship, which is a permitted use, but rather as an assembly hall, which is not," the city said.
"There have been a number of complaints about the services being delivered through Ark Aid at the First Baptist Church," the letter from the city said.
The city gave the church three options to comply with city bylaws: It could assume control of the services, get a zoning amendment or "request Ark Aid to find an alternate location."
When the church and Ark Aid went public with the dispute in early October, several angry church leaders and council candidates condemned the city's move. An essential role of churches is to help the needy, and the city allowed those kinds of services across London, critics said.
In the wake of public anger, city officials extended a deadline for compliance and began discussions with the church.
First Baptist officials maintained that zoning allowed places of worship, defined as buildings "owned or occupied by a religious congregation or religious organization" that is "dedicated exclusively to worship and related religious, social and charitable activities."
"Providing meals and a drop-in center to the most marginalized individuals within our community is exactly 'a social and charitable activity,'" the church letter to the city stated.
City hall officials told church officials last Friday they agreed the use of the church was in compliance with the zoning for places of worship.
Based on documentation provided by the church, "It was determined that the current use falls with the list of permitted uses" for the area, the notice from city hall to the church says.
The London Free Press asked city hall to explain how officials could misinterpret their own bylaw and why the city backed down.
A spokesperson said bylaw chief Orest Katolyk was not available for comment Thursday.
"The city was able to work with First Baptist Church and its tenant on a resolution in response to a specific complaint regarding zoning of the property," a city spokesperson emailed The Free Press. "The city offered options and extensions, and no enforcement action was taken. This municipal compliance file is now closed."
with files from Megan Stacey, The London Free Press