If you notice an increase in connections and communication across Chatham-Kent, there's a good chance it can be traced back to CAMP Kent.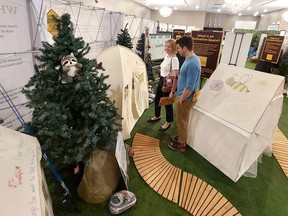 If you notice an increase in connections and communication across Chatham-Kent, there's a good chance it can be traced back to CAMP Kent.
The first CAMP (Communities Activating Meaningful Partnerships) Kent held on the weekend at the Portuguese Club in Chatham included numerous discussions to help improve the community, along with activities to bring people together.
The event was created by Vision Us, previously known as the Prosperity Round Table.
Vision Us executive director Phillip Mock said CAMP Kent was a "blow-up" event to show what Vision Us and other community partners have to offer.
A number of social pilot discussions were held including finding ways to connect people interested in volunteering with organizations in need of volunteers, along with connecting the various communities within Chatham-Kent.
Mock said different conversations were held every hour "to spark new ideas in the community and really about connections.
"How do we centralize access to volunteers, centralize access to information, so people know where to turn to get the things they need to build this community up?" he added.
Lisa and Pat Maynard, who moved back to Chatham about six years ago, came out to see what the event was about.
A discussion about creating a new volunteer portal to connect volunteers with organizations appealed to Lisa Maynard.
"I'd like to volunteer more, but I never know how to get in contact with the volunteer organizations," she said.
Mock said there were conversations about improving communication between different communities in Chatham-Kent.
"Everywhere we go, we hear the same thing, which is, 'Oh my god, we didn't know that was happening in the community' or 'I didn't even know that was happening in my town.'"
The event was promoted as connecting people and harnessing the power of neighbors.
"That's actually what we liked about moving back to Chatham, it's a smaller community," Pat Maynard said.
Noting the couple knows their neighbors well, he said, "I think giving back to the community and bringing everyone together makes a lot more sense in a place like this."
Leslie Wright, a community support worker with Rain & Shine Behavioral Counseling, she said this kind of event helps the agency connect with different areas of the community as well as have the opportunity to interact and collaborate with other organizations.
Wright took part in social pilot discussion on connecting better across Chatham-Kent.
"There's a lot of things offered and a lot things going on, but sometimes we miss it," she said.
"I definitely think we need some kind of centralized data base or one (web) site people can go to find out what kind of services are available, who needs volunteers, what supports are there," she added.
Not only would Wright like to see a centralized portal that provides information on what's happening, she said, "I'd also like to see more events happening and a lot of youth-oriented events as well."
The event featured many events including how to become a volunteer firefighter, an anti-bullying art display and a community data walk to explore what makes Chatham-Kent's communities unique.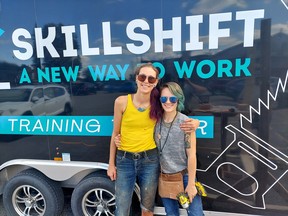 The SkillShift construction training program was highlighted as one of the outdoor displays.
Rachel Martin, 23, is among local young people who have benefited from the program offered by Vision Us, landing a job in May with McDowell Home Solutions.
Martin said the fully equipped trailer provided the opportunity to "work hands-on with the tools and get better with reading blueprints."
She added the math course was "a good refresher and you definitely need it if you're going into the trades."
Alora Whiteley, who started McDowell Home Solutions about a year ago, saw the SkillShift involvement on Martin's resume and "it seemed to fit with what I wanted to do, so I hired her."
Although Martin didn't have a lot of experience, the SkillShift program gave her a base knowledge, Whiteley said.
"She had the level of expertise I was looking for," she said, adding she likes to train people.
Martin had gone to school to learn construction, but decided she wanted an apprenticeship to have more hands-on training.
She feels fortunate to have been hired by Whiteley.