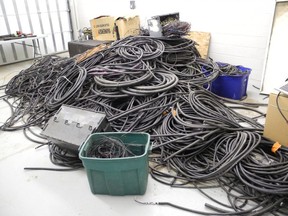 Thieves in Brantford will soon find it more difficult to convert stolen metal and copper into cash.
Article content
City council is introducing additions to its bylaws governing scrap yards to address a problem costing local businesses a lot of money and inconvenience.
Article content
The changes were introduced at a planning and administration committee meeting Tuesday.
They prevent scrap dealers from accepting certain items and require scrap dealers to notify police within 24 hours of offers to purchase frequently stolen items.
Those selling to scrap dealers will have to provide traceable identification and cash transactions will no longer be allowed.
"This will be of benefit to the many businesses and homeowners who have had things like air conditioners and the copper pipe leading to air conditioners stolen," Mayor Kevin Davis said. "I also think it will be helpful in addressing the opioid issue because some of the revenue derived from stealing metal and copper and taking them to scrap dealers is part of the financing of the local drug trade.
Article content
"It's all about money and some of that money finances the drug trade."
The measures will come before city council for approval on Nov. 28.
There have been more than 443 reports of copper and metal thefts in Brantford since 2019. The majority of thefts of copper and metal are from homes currently under renovation, new builds or vacant properties, a report prepared by Dave Wiedrick, the city's director of bylaw compliance and security, says.
Commercial compounds and yards are often the targets because copper and metal are easily accessible.
There have also been reports of significant flood damage to buildings after the piping had been cut. Other victims reported significant damage to their HVAC systems resulting in repair bills between $30,000 to $100,000.
Article content
Coun. Linda Hunt recalled a meeting she had with Coun. Richard Carpenter, Wiedrick and Brantford police in June to discuss the problem.
"The meeting was a direct result of a lot of concern from business owners in the industrial area in Ward 4," Hunt said. "We were able to get some statistics and from Jan. 1 to May 31, 2023 there were 22 break and enters in Ward 4 clustered around two very distinct areas.
"The number one thing being taken was metal."
Councilors were also provided with a letter from Brant Scrap Metal objecting to the city's plans.
The company already has ways to deter metal theft including establishing seller accounts, the use of video cameras and staff training to notify a supervisor if suspicious looking material is spotted.
Article content
The company employs four people and has been in business for 10 years. It has been a member of the Canadian Association of Recycling Industries for seven years.
According to the company, the new measures will not stop thefts as thieves can easily take their stolen material to yards outside the city, to another province or sell it online.
Meanwhile, the additional administrative and financial burden that will come with the new measures will drive some smaller dealers out of business.
The market for stolen material is driven by unlicensed mobile dealers and online marketplace sellers, not licensed dealers, the letter states.
twitter.com/EXPVBall