City hires consultants to conduct 'visioning exercise'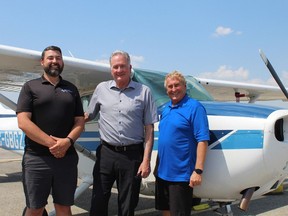 On a clear, calm, late spring day, ideal for flying, a pilot prepared for takeoff in her Cessna 172 on the tarmac at Brantford Municipal Airport.
"Have a good flight," called out an airport employee after handing the pilot a packet of paperwork.
On a sunny summer day there can be 200-250 "movements" (takeoffs and landings) at the airport, which has a history dating back to the Second World War.
On a cold, February day, there may only be five or 10 movements, said Shawn Broughton, manager of both the airport and the Brantford Flight Centre.
The original airfield, known as Commonwealth Flight Training Base No. 5, was constructed in 1940 by the federal government for air force flight training. After the war, the Brantford Flying Club, which had been providing flight training since 1929, relocated to the airport.
In 1970, the federal government transferred the airport lands and management duty to the City of Brantford.
Today, the airport is used largely for flight training. It also has hangars to store small aircraft and corporate planes owned by local businesses. On Fridays, students who live in residence at W. Ross MacDonald School fly from the airport to their homes all over northern Ontario and back again on Sundays. The airport is a link for emergency patient transfer services by air and police and the Coast Guard use it as a base when conducting searches for missing persons. The 438-acre property has even been a backdrop for film productions.
The airport is home to the Brantford Flight Centre, which is training desperately-needed pilots to help fill a global shortage. Other airport tenants include Brant Aero, which offers aircraft sales and service; Aircraft Spruce, offering pilot supplies and aircraft parts; and Solar Ship Inc., developer of builder of hybrid aircraft.
There are plans to add new t-hangars, which hold 10 planes each, to help meet the demand for storage of privately-owned aircraft.
But Brantford Mayor Kevin Davis is among those who think the airport could be more.
The city has hired consultants McSweeney and Associates to complete a "visioning exercise" for the airport that will help set its future. It will include consultation with stakeholders, such as the flying club, private plane owners and corporate users. There will also be public consultation.
Recommendations are expected to come to city council for consideration by early next year.
"It's important to have a vision for the airport," said Davis during a conversation just outside the flight centre. "How it fits into the modern world of aviation. What direction we should go."
Davis said the airport property is currently "a bit of a hodge-podge." One of the buildings, for example, serves as storage space for some city paperwork, another houses a couple of old buses. On a late May day, police were using some vacant airport property to train dogs.
"Is that the best use of land right next to the runway?" said Davis. "Land is growing increasingly scarce in southern Ontario. Airports are coming under pressure. There is a need for the airport to demonstrate its worth. We want it to be even more relevant and integral. If we leave at it is, I suspect in 10 years it will be sold."
While the city operates the airport, the property sits in the County of Brant, creating what Davis calls "a somewhat unusual situation where the city, as the property owner, is paying property taxes (about $60,000 a year) to the county." The County of Brant does not contribute any operating funding.
This year, operating expenses for the airport are about $530,000, offset by revenue of about $800,000. Surplus is transferred to the airport capital reserve, which is used for major capital expenditures, such as replacement of perimeter fencing or runway resurfacing.
Revenue comes to the city from hangar rentals, aircraft fuel surcharges, land leases and fees for "tie down" of planes not in a hangar, said Broughton.
Mark Littell, chair of the Brantford Airport Board, got support from city council for a motion he recently brought forward directing city staff to investigate possible development opportunities for leasing airport land and buildings.
A staff report to Brantford city council in March said the airport has been the "target of considerable unsolicited interest for new investments from aviation-related corporations and consortia."
"The airport has been a bridesmaid for a long time, now it has a chance to be a bride," said Littell, a pilot who has been a member of the Brantford Flying Club for 50 years. "It's a nice easy spot for people to come to."
Littell said the Brantford airport "is getting busier all the time," as nearby airports, including Hamilton, Waterloo and Billy Bishop "are sort of pushing the little guy out."
And, with the pending closure of Buttonville Municipal Airport to re-develop the valuable land it sits on into a mixed use of commercial, retail and residential development, Littell said many pilots will be "looking for a new home."
Davis said an airport is an important asset that helps attract business and industry. He envisions a new industrial subdivision for aviation-related businesses on vacant, undeveloped lands on the south side of the east end of the main runway, creating many new jobs.
But infrastructure for the land, including roads, grading, hydro, water and sewers, "would cost millions and couldn't be financed by lease payments alone," said Davis.
"It would be financed through property taxes and development charges paid on the newly developed lands. However, since the lands fall within the county jurisdiction, those taxes and charges would be paid to the county, not the city."
Davis said he's hoping the county will partner with the city on the development.
"That would be a win-win," he said. "An improved airport for the city, with more aviation-related business to the benefit of the economy of both municipalities while, at the same time, generating additional property tax revenue for the county."